Canadian Truck Driving School &amp CDL Training Opportunities
By Publisher
| Last Updated March 10, 2022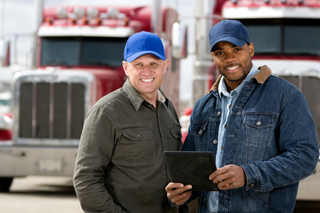 Truck driver training can provide an all-around learning experience in a number of ways. Instructors teach courses that cover safety considerations, supply chain basics, and operations of tractor-trailer businesses. You can often start working on your practical driving skills right away by using a 3D simulator. And, of course, you will get to spend lots of time behind the wheel. Once you have the basics down, CDL driving school instructors will give you personalized driving lessons in a real tractor-trailer.
To sum it up, a CDL training school can help you get:
Actual behind-the-wheel truck driving training
Commercial driver's license (CDL) training
AZ Class License exam preparation
Transportation of dangerous goods training
A commercial driving school will often provide graduates with the Commercial Driver Improvement (Defensive Driving) Certificate and even help book the AZ Class License test. Once you are licensed, you can go after local or long-haul tractor-trailer operator jobs. Other potential positions include flatbed operator, car carrier driver, tanker driver, and truck dispatcher.
Find a CDL School Near You
Please enter a valid postal code.
3 Big Reasons Why Truck Driver Training Is Worth Pursuing
Becoming a professional driver in the freight transportation industry might be one of the best moves a person can make. It's a skilled trade that offers a lot of career stability since the need for trucking is massive and only expected to keep growing.
Just consider that according to Job Bank data, Canada already has roughly 304,000 truck drivers. About 200,000 Canadians make their living in Ontario's trucking industry alone. But thousands more drivers will be needed all across the country in the coming years. And that doesn't even come close to telling the whole story. Check out these three reasons to give a career in truck driving some serious thought:
1. A Major Shortage of Truck Drivers Is on the Horizon
Canada's trucking workforce has more people nearing retirement age than most other industries. And the ongoing growth of the freight-hauling sector is creating even more demand for qualified drivers.
As a result of these and other factors, the Canadian Trucking Alliance (CTA) says the country will likely experience a shortage of at least 34,000 truck drivers by 2024. But that number could go as high as 48,000. If you're looking for a trade that's expected to have reliable opportunities, truck driving should be near the top of your list.
2. Truck Drivers Are Vital to the Canadian Economy
According to the CTA, roughly 90 percent of all things we buy or consume in Canada are delivered to their final destinations by truck. The movement of goods is simply reliant on the services of commercial drivers. And that includes items as basic to our survival as food.
That's why this sector has such a big impact on the nation's economic strength. The CTA says that by 2024, the for-hire trucking industry is expected to contribute about $24.1 billion to Canada's GDP.
3. The Trucking Industry Offers Many Career Options for Drivers
As an aspiring truck driver, you can look forward to making some very interesting choices in your career. That's because the trucking industry is segmented in a few important ways.
For starters, will you decide to work in long-haul trucking or short-haul trucking? Each one has advantages, yet drivers in both areas often enjoy what they get to do. Here are the main differences:
Long-haul truck drivers: Long-haul drivers typically operate larger tractor-trailers that weigh over 4,600 kilograms and have at least three axles. And they mostly carry freight between different cities and locations over 500 kilometres apart.
Short-haul truck drivers: Also called line-haul drivers, they drive trucks in a range of sizes for local freight delivery or special purposes like towing or hauling construction materials. Their service routes are generally limited to less than 500 kilometres within the same urban area.
Within each of these areas, things can be broken down even further. For example, for-hire trucking companies provide freight services to organizations that don't have their own trucking infrastructure. In contrast, some companies outside of the transportation industry have their own private trucking fleets. They hire their own in-house drivers and tend to focus on short-haul routes.
So a qualified driver can have a whole lot of options. You can find good employment opportunities with companies specializing in moving, transportation, manufacturing, or distribution and logistics. And it's also possible to become self-employed. By owning a truck of your own, you can contract your services out to a variety of different clients and control your own schedule.
Find a School Near You
Please enter a valid postal code.