International Trade & Business Training
By Publisher
| Last Updated March 10, 2022
Programs for international business and trade can prepare you to help companies prosper in today's global marketplace.
Having an in-depth understanding of the worldwide business and economic climate is crucial to the success of thousands of companies throughout Canada that rely on cross-border investments and trade. With focused training, you can acquire the specialized skills needed to flourish in this field. For example, you can learn how to coordinate and manage resources to help companies achieve their international goals. And you can develop many other professional abilities that position you to take advantage of countless opportunities with import/export businesses, government agencies, multinational corporations, non-profit organizations, or foreign companies operating in Canada.
International trade and business training can literally open a world of opportunity.
Find an International Trade School Near You
Please enter a valid postal code.
3 Major Benefits of Studying International Business and Trade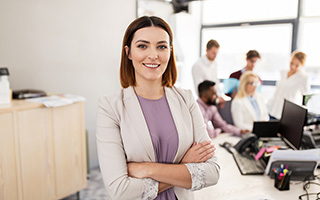 Global trade is big business. According to Stats Canada, more than 210,000 companies across the country are involved in exporting or importing activities. Canada traded over $1 trillion worth of goods and services with G7 countries in 2017 alone. That same year, the volume of world merchandise trade increased by 4.7 percent, more than twice the growth rate of 2016. That's why organizations of all sizes—across many industries—need people with the skills to navigate the complex realm of international business and trade.
Here are three compelling reasons to consider training in this field:
1. Abundant Career Paths
Did you know that "international business" is a broad term encompassing any transaction that takes place between nations, whereas "international trade" is used to describe the movement of goods between countries? An education in this field gives you the opportunity to achieve a greater understanding of the financial, regulatory, and cultural implications of doing business in another country or importing or exporting merchandise. You can learn how to assess the benefits and risks of a potential trade opportunity, how to promote products in foreign markets, and how to negotiate deals and strategic partnerships. You can also gain insights into different cultures and learn how to tackle business issues from a variety of perspectives. Many programs also include a practicum that can give you hands-on experience in the field.
That's why this type of training can prepare you for a wide range of career paths, including areas such as:
Marketing
Finance and accounting
Sales
Business development
Logistics
Customs compliance
Find a Business School Please enter a valid postal code.

You could pursue work as an import/export coordinator, freight forwarder, market researcher, management analyst, customs broker, logistics manager, and more. And you could fill those roles for organizations that deal in anything from agricultural products to sports equipment. Even companies that don't have a large global presence often value the big-picture perspective that graduates of these programs bring.
International business training can also be an excellent stepping stone to advanced studies in areas like public policy, finance, or law. The range of possibilities is extensive.
2. Excellent Salary Potential in a Broad Range of Industries
Business careers frequently come with comfortable incomes, and those that involve cross-border markets are no exception. The Government of Canada's Job Bank provides information about earnings in the following international business careers (and more):
Corporate sales manager
Freight forwarding manager
Management analyst
Business development officer
Purchasing agent
Customs broker
3. A Chance to See the World
Are you eager to explore new lands and interact with a diverse array of fascinating people? A career in international business often comes with a multitude of opportunities for travel. Whether you are seeking a bigger audience for a service, sourcing supplies for a new product, establishing a company base in a new country, or negotiating an agreement with foreign investors, you can broaden your horizons and benefit from a wide range of enriching professional experiences.
Go Global
A world of opportunity awaits. International trade and business programs can get you started on the path toward a fulfilling career that crosses borders.