Culinary Schools & Colleges in Canada
By Publisher
| Last Updated March 10, 2022
Turn your cooking or baking talents into a new career.
Culinary schools across Canada specialize in helping food enthusiasts become skilled professionals in an industry built on delighting people with creative presentation, delicious flavours, and warm hospitality. They understand what's involved in becoming someone who can work at a high level within commercial kitchens or bakeries. And they tailor their training programs toward the goal of ensuring that students get the opportunity to begin their culinary journeys with plenty of confidence.
By exploring this guide to Canadian culinary schools, you can find a program to help you prepare to become a chef or another type of professional in the food industry. You could opt for a program focused on restaurant management, baking and pastry, catering, culinary arts, or even wine and spirits.
If you're looking to find out the typical chef education requirements in Canada, average salary rates, or other important information, this article can answer all of these questions and more.
Find a Culinary School Near You
Please enter a valid postal code.
Chef Career Information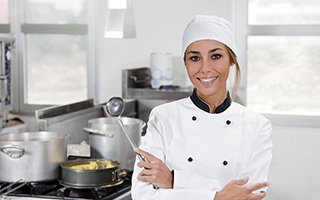 The food industry has become huge over the past decade. Food television shows and even 24/7 networks have risen in popularity, along with magazines, cookbooks of every kind, and too many food blogs to count.
Food has even become a mainstay of the social media world, with people sharing tips, recipes, and photos of their creations on sites like Facebook, Twitter, Pinterest, and Instagram.
All of this focus on food may have made people more interested in learning how to cook amazing meals themselves, but dining out continues to be hugely popular. Restaurants of every kind, from fine dining establishments and cafés to diners and bistros, and even food trucks, are hot spots across the country. Some cities are even becoming known primarily for their amazing food scene. This makes the culinary field an exciting career choice for those with the passion and drive to enter this challenging but thrilling industry.
What Is a Chef?
"Chef" may seem like a pretty straightforward title and position, but it's a very broad term used to describe anyone who cooks for a living. The reality of the industry is that it takes many different individuals working in many different positions to keep a culinary business running smoothly and profitably.
The end goal is always to provide customers with not only great food, but also great service. That means never making a customer wait too long for his or her meal. In order to accomplish this goal, chefs have to work together seamlessly to ensure perfect timing for each customer's order. And that is the reason most restaurants follow what is known as a "brigade de cuisine," or "kitchen brigade."
The Brigade de Cuisine
Coined in the military, the term "brigade" refers to a tactical formation of organized troops. In a large commercial kitchen, a brigade system is used to organize chefs by rank (based on experience and skill level) and station (based on the type of food they prepare).
The brigade system defines each of the different positions and the responsibilities associated with them.
A common brigade de cuisine system is organized in this order, from highest to lowest ranking:
Executive Chef
Also commonly called chef de cuisine or head chef
Responsible for management of the entire kitchen
Handles staff supervision and training, menu creation, food purchasing, and enforcement of safety and sanitation practices
Sous Chef
Works directly under the executive as second in command
Assists in management of the kitchen
Often fills in as head of the kitchen when the executive chef is away from the restaurant
Station Chef
Also commonly referred to as chef de partie or line cook
Handles food preparation at a specific station
Stations can include (but are not limited to):

Baked goods—breads, muffins, cakes
Cold items—salads, appetizers, desserts
Sautéed foods—sauces, warm appetizers, warm side dishes
Fried foods—fried side dishes, mains, garnishes
Pastries—candies, cookies, pastries, ice carvings, decorative items, sometimes pastas
Vegetables—vegetable side and main dishes, garnishes
Soups—stocks, soups
Grilled items—grilled, roasted, and broiled mains and side dishes
Tournant
Sometimes called roundsman
Isn't responsible for a specific station, but instead fills in on different stations as required
Commis
Also called a junior chef
Works directly under a station chef
Typically responsible for preparing ingredients, cleaning and sanitizing, and unloading and storing deliveries
Other Positions
Many additional positions outside of a restaurant require a chef's skills. Some of the most common positions include:
Caterer—Prepares food to be served at remote sites, commonly for events like weddings, banquets, and conventions
Personal chef—Someone hired by an individual or a corporation to cook within private settings
Culinary instructor—Teaches others to cook either for themselves and their families or as a professional in the culinary industry
Food researcher/product developer—Hired by food-related companies to help create new food products, often for mass production and distribution
Typical Job Responsibilities
Find a Culinary School Please enter a valid postal code.

Job descriptions can vary quite a bit depending on the specific position and type of work environment. But generally, those who work in commercial kitchens are expected to handle the following tasks:
Food Preparation
Checking the quality of all food products to be used that day
Completing mise en place (i.e., preparing and organizing all of the ingredients expected to be required during a particular shift)
Preparing, cooking, seasoning, and plating food to order as each ticket comes in from the front-of-house
Cleaning/sanitizing the workstation as necessary throughout the shift
Fully cleaning an entire station and assisting with cleaning and sanitation of the entire kitchen, including all appliances and equipment, at the end of the shift
Ensuring all unused and extra food items are properly stored for use during the next shift
Kitchen Management
If you have a high-ranking position in a large kitchen, work in a small kitchen with fewer employees, or own your own restaurant, you will likely have to take on these additional tasks:
Keeping tabs on inventory and ordering products as needed
Estimating requirements for food and supplies based on demand
Estimating food costs per plate and setting menu pricing
Setting guidelines for food portions
Developing and testing new recipes and updating the menu selection
Ensuring the kitchen meets industry safety standards and that proper sanitation practices are followed by all staff
Creating staff schedules
Hiring and training new staff
Handling accounting (or outsourcing to an accountant)
Tasks Outside of a Commercial Kitchen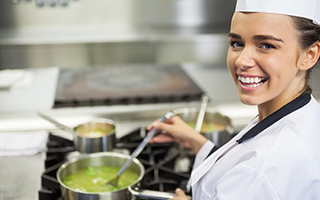 If you work in a chef-related position outside of a traditional commercial kitchen, your duties can vary.
For example, a caterer often prepares specifically requested dishes and is responsible for bringing the food to a remote site and either setting it up buffet-style or serving it to clients restaurant-style.
A private chef is typically required to cook within a client's home, either preparing a week's worth of meals for the client to reheat or preparing and serving each individual meal.
A food product developer usually works in a large industrial kitchen, creating and testing new products or recipes and setting guidelines for mass production.
Workplace
The most common working environments for chefs include:
Full-service restaurants
Limited-service restaurants (e.g., fast-food restaurants, cafeterias, and restaurants that focus on carry-out and/or delivery items)
Kitchens and/or restaurants within hotels, resorts, and cruise ships
Bakeries
Mobile restaurants (i.e., food trucks and street food carts)
Catering companies
Public institutions like schools and hospitals
Industrial test kitchens
Private residences
Corporate kitchens and cafeterias
Salary
Salary rates can differ depending on factors like:
Level of experience
Working environment
Geographic location
Position (e.g., executive chef, pastry chef, or sous chef)
But, to give a general picture of salary rates, Government of Canada Job Bank statistics gathered on March 4, 2022, show that the national averages for chef salaries were as follows:
The median hourly wage was $18.00.
The lowest hourly wage was $14.00.
The higher end of the scale was $26.75 per hour.
Paid Apprenticeships
It is also important to note that you could earn a salary while working as an apprentice. In most cases, apprenticeships are actual paid positions (although at a lower wage than a fully trained chef). This helps offset the cost of training and allows you to earn a pay cheque while you learn the ropes of the industry.
Why Going to Culinary School Can Be a Smart Move
Food is at the very heart of many Canadian cultural traditions. And just about everyone enjoys being treated to a fine meal prepared by chefs or cooks who have the skills and creativity to produce something that most of us wouldn't be able to create ourselves. Good food simply feeds the soul. That's a big reason why we now celebrate so many of today's master chefs.
Plus, the restaurant industry alone demonstrates how important professional food services are to Canadians and the overall economy. Check out these numbers:
According to Restaurants Canada, in 2016, over 1.2 million people were directly employed by Canada's restaurant industry, which generates about $75 billion every year in sales (that's four percent of the nation's economic activity).
Cities like Vancouver and provinces like Ontario are considered world-class food destinations. It's why they are great places for going to culinary school. Vancouver, for example, is home to hundreds of restaurants serving many different types of ethnic cuisine in numerous creative ways.
Of course, restaurants are only part of the story. As an aspiring chef or culinary arts enthusiast, you can find appealing opportunities in hotels, healthcare facilities, cruise ships, and many other types of settings.
Certification Requirements
Chefs are not regulated in Canada, and specific certification is not technically required in order to work as one in this country. However, certification is strongly preferred by many employers. Plus, getting professionally certified is an excellent way of proving to future employers that you are committed to the industry and possess skills that meet industry-standard requirements and expectations. It can also be a good way of showing that you are open to continuously learning and striving to improve your skills.
Certification options in Canada include:
Red Seal Certification
Red Seal certification tends to be the most common in Canada, and it is the highest level of government-endorsed certification. There are multiple routes you can take to meet the certification exam prerequisites, including:
Completing a Red Seal Professional Cook apprenticeship
Completing a combination of post-secondary culinary training and the Red Seal Professional Cook apprenticeship
Providing details of your work experience to date in lieu of vocational or apprenticeship training and requesting to challenge the certification exam
One of the main benefits of pursuing Red Seal certification is that it is designed to be interprovincial, meaning that the criteria and standards have been set and jointly agreed to by multiple provinces and territories.
In the case of Red Seal Professional Cook certification, it has been approved and adopted by all provinces and territories, except Nunavut, Saskatchewan, and Quebec. That means you can work as a chef within any province or territory (excluding the three exceptions) without having to worry about additional location-specific certification.
Canadian Culinary Institute
Another common source of industry certification is through the Canadian Culinary Institute (CCI), which operates under the Canadian Culinary Federation (CCF). The CCI works with a selection of post-secondary culinary institutions in order to oversee the delivery of certification programs and evaluate students who want to be considered for industry certifications.
Various CCI certification levels are available. But, overall, they are intended for experienced chefs who are looking to receive advanced certification credentials. Each one has a specific set of prerequisites. For some, you must hold Red Seal Journeyman status. Others require that you complete a post-secondary program from a CCI-approved school.
Official CCI certifications include:
Certified Working Chef (CWC)—For chefs with a Red Seal endorsement and at least one year of work experience at the journeyperson level
Certified Chef de Cuisine (CCC)—For those with at least five years of experience after attaining a Red Seal endorsement, with two or more of those years involving kitchen management and employee supervision
Certified Master Chef (CMC)—For professional chefs with eight or more years of experience after earning a Red Seal designation and at least two years as a CCC
Education Requirements
Since chefs are not regulated in Canada, there isn't one specific set of education requirements across the board. Different employers can have different preferences. However, most employers do prefer to hire people with the following credentials:
A certificate, diploma, or degree from some type of post-secondary culinary arts program or journeyman status (or higher) from completing an apprenticeship
Certification (usually Red Seal)
Some type of real-life experience, obtained either through an apprentice position or an externship in connection to a culinary arts program
Why Culinary School is a Good Option
One of the benefits of attending a vocational school is that you can often find one that is associated with an apprenticeship program. This means you can get the best of both worlds—formal education at the post-secondary level and real-world experience through a paid apprenticeship position.
The only prerequisite typically associated with culinary programs is having a high school diploma (or equivalent).
Find a School Near You
Please enter a valid postal code.
What Training Will Cover
Culinary schools frequently offer a variety of program options. However, if you are looking to obtain the education needed to become a chef, the most common choice of program tends to be culinary arts.
The curricula can vary by school, but the most commonly covered areas are:
Theory, Safety, & Business Training
Nutrition
Sanitation
Public health standards and regulations
Kitchen management
Restaurant service
Inventory management and food storage
Food purchasing
Food costing
Menu planning
Customer service
Communication
Practical Kitchen Training
Knife skills
Cooking techniques and methods
Proper food seasoning
Food portioning
Regional cuisines
International cuisines
Food production
Banquet and catering service
Plating and presentation
Kitchen tools and equipment
Hands-on Culinary Experience While in School
Many culinary schools operate some type of on-site restaurant, café, or catering service. They tend to be run entirely by students under the supervision of instructors and are often open to the student population and/or the public.
For additional real-life experience, some programs also include an externship within a local business. Alternatively, if you choose a program that is associated with an apprenticeship program, you will generally obtain theoretical and practical training through the school and then gain real-life experience as an employer-sponsored apprentice.
Alternative Culinary-Related Program Options
Perhaps you've decided on culinary-related training but are looking for something other than a culinary arts program. Examples of other common programs include:
Baking and Pastry Arts
Concentrates on skills and knowledge pertaining to the specific areas of baked goods, pastries, and desserts. Specialty areas like cake decorating and edible art may be covered as well.
Intended for those who want to specialize in baked goods and/or desserts.
Hospitality/Restaurant Management
Usually geared more toward the business side of the restaurant industry, including front-of-house service and restaurant management or ownership.
Ideal for those who want to be involved in the logistics of running a restaurant rather than handling the actual preparation of food.
Length of Training
The exact length of a culinary program will depend on a few different factors, such as the type of program you choose, the type of school you attend, and whether or not there is an affiliation between the school and an apprenticeship program.
Here are some general guidelines for culinary program length:
Associate or bachelor's degree—Two to four years
Certificate or diploma—Anywhere from a few months to two years
Apprenticeship—Can vary widely depending on whether you can apply industry experience or post-secondary training toward the required apprenticeship training hours. If you have no formal training or work experience, it will generally take three years to obtain journeyman status.
Tuition
When determining the cost of your schooling, it's important to find out exactly what is included in the tuition fee. Some schools may include the cost of books, supplies, and equipment within tuition, whereas other schools may split these costs up.
Most schools are able to offer (or facilitate) some form of financial aid for qualified students. This could include private loans, government loans and grants, scholarships, work-study programs, or veterans' benefits.
Career Outlook
According to Job Bank, the job outlook for chefs in Canada looks fairly positive. Between 2015 and 2024, about 24,300 new job openings are anticipated to become available. About 56 percent of those openings are expected to be created due to expanding demand. And another 35 percent of the openings could be generated by current chefs reaching retirement age.
Some of the main areas of employment for chefs are:
Beverage-oriented food services (including bars and pubs)
Full-service restaurants
Special food services (including catering and mobile food services)
Limited-service establishments (including cafeterias and fast-food businesses)
Accommodation services (including hotels and resorts)
Health care and social assistance services (including hospitals and schools)
How to Excel as a Chef
Outside of education and experience, certain natural abilities and traits can contribute to a successful career as a chef, such as:
An excellent palate—for tasting and distinguishing flavours accurately
Creativity—for inventing new recipes and plating designs
Close attention to detail—for accurately following complex recipes
Excellent teamwork skills—for working well as a team member in the brigade de cuisine system
Leadership abilities—for advancing your position and leading those working under you
Clear and effective communication—for constantly communicating to ensure that the kitchen runs smoothly, and dishes get out on time
Multi-tasking—for handling various components of a dish or recipe all at the same time
Levelheadedness—for keeping cool under pressure and time constraints
Benefits of the Job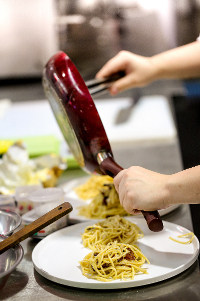 The most obvious reason to become a chef is because you have a true passion for food. But some other common factors considered a "cherry on top" are:
It's Fun!
Being a chef involves working in a fast-paced, exciting environment that tends to get your adrenaline pumping. As any adrenaline junkie can tell you, nothing beats that "on top of the world" feeling.
Advancement Is Encouraged
Thanks to the brigade de cuisine system, the culinary ladder is there to be climbed. Knowing that progression and advancement are there for the taking can be an incredible source of satisfaction and motivation.
There's Never a Lack of New Challenges
Working in a kitchen can give you the opportunity to constantly challenge your skills and abilities and strive for continual improvement. It's an industry where you truly can learn something new every day because the sheer varieties of food and ingredients make for endless possibilities when it comes to new recipes. This can keep your job fresh and engaging.
Food Is Always in High Demand
Everyone enjoys a break from cooking at least once in a while. That's what makes the restaurant industry so popular and dining out such a common "small luxury" for people to treat themselves with.
Opportunities Abound
Even the smallest towns tend to have at least one restaurant. And, due to the massive amount of work that goes into operating a commercial kitchen, most restaurants always have work to be done and are open to new employees. It's comforting to know that a steady paycheque can almost always be found.