Nutrition & Personal Training Certification Schools
By Publisher
| Last Updated March 10, 2022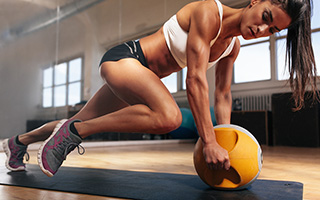 Transform your enthusiasm for healthy living into a career with plenty of benefits for you and others.
Nutrition and personal training certification schools enable active and enthusiastic people to deepen their understanding of food and exercise while gaining practical abilities they can share. It's training that opens up the opportunity to benefit from the rising trend in Canadians seeking help for beginning and maintaining healthier lifestyles.
Imagine being someone that people turn to for achieving better-looking and better-feeling bodies. The specialized knowledge you gain can help you assess the diets and/or fitness levels of eager clients and empower them to improve their wellness through customized plans that work. With a studied background related to getting proper nutrients or managing safe and appropriate workout routines, you truly can make that kind of a difference.
Career options in fitness and nutrition are expanding all the time. And it's a positive sector that can make you feel happy about what you do and the impact you can make.
Find a Personal Training School Near You
Please enter a valid postal code.
Why the Future is Bright for Fitness and Nutrition Careers
Health information is more available and widespread than ever. Canadians are hearing how important food choices and physical activity are to both their short- and long-term well-being. And most of them want to lead healthier lives. But they often get stumped when it comes to figuring out the best courses of action for themselves.
Many people simply need convenient access to professionals who can guide them through the process. Consequently, the demand for people with nutrition certification and fitness certification keeps growing. The health and well-being of our communities depend on it.
The Facts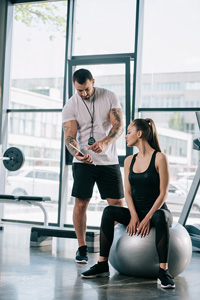 Even though people across Canada know how important diet and exercise are to their health, several statistics show that there's still a whole lot of room for improvement. For example, consider the following numbers from the Heart and Stroke Foundation of Canada:
Every seven minutes, somebody in Canada has a heart attack. That equals about 70,000 heart attacks each year.
By 2020, diabetes is expected to have an economic burden on the country of $17 billion.
More than half of all Canadians age 12 and over fail to eat at least five servings of fruits and vegetables each day, which is the recommended minimum.
More than 50 percent of the nation's women age 12 and up—and almost half of the country's men—are considered physically inactive.
Over 80 percent of Canada's teenagers might not meet global guidelines for optimal growth and development due to low levels of physical activity.
Those facts might seem bleak, but there is reason for optimism. More and more Canadians show desire and intent to improve their health and lifestyle through fitness activities and buying and eating healthy food.
The Opportunities
With the ever-increasing focus on health and lifestyle management, the vocational possibilities for people with the right training keep adding up. (This extensive list of nutrition jobs is specific to the U.S., but a lot of the information is equally relevant to Canada.) So, you can tailor your career to fit your own combination of interests.
Maybe you'll decide to focus on helping people lose weight or tone up through aerobic and anaerobic exercise as a personal trainer. Or maybe you'd rather educate people on the role of macro- and micro-nutrients like carbs, fat, protein, and minerals in the body while helping them make good food choices as a diet consultant. You might even choose to do some of both.
Whatever your goal, the variety of workplaces in need of such expertise is staggering. Here are some of the many examples:
Recreational facilities
Fitness clubs
Health spas
Community centres
Weight loss clinics
Resorts
Cruise ships
Schools
Retirement homes
Natural food markets
Summer and day camps
Many people in this field also choose to be self-employed and cultivate their own clients. Plus, the pay is another compelling aspect of these professions. As just one example, consider that a person in Canada who consults on recreation, sports, and fitness matters can earn a median hourly wage of $24.00 or up to $42.00 or more, according to Job Bank data.
Find a School Near You
Please enter a valid postal code.