Nursing Schools & Colleges in Canada
By Publisher
| Last Updated March 10, 2022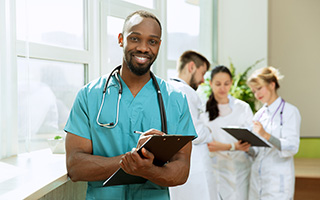 Nursing schools offer ways to acquire health care skills that are greatly needed throughout Canada.
Consider an essential point: Nurses are every bit as important as doctors. The work they do is crucial for creating good patient outcomes. In fact, they are frequently the first to respond to emergency situations in which every second counts. And they are often the ones leading the way toward better care for all of us. It doesn't matter whether your future involves being a registered nurse (RN), a registered or licensed practical nurse (RPN or LPN), or part of a nursing team's support staff. Any of those careers represents a smart choice with tremendous opportunities for contributing to the public good while enhancing your own life at the same time.
Just imagine being able to say that you make your living by making positive differences in other people's lives.
Find a Nursing School Near You
Please enter a valid postal code.
Nursing Education and Career FAQ
Why Is Nursing Such a Good Career Option?
Genuine, far-reaching impact. That's how a lot of nurses might express the nature of their careers. The significance of their work extends into many areas of their lives, both personally and professionally. Here's a sample of what they tend to value most:
Real Human Connection
When you help people get through very difficult circumstances, it can lead to warm, unforgettable moments of gratitude. Many patients and their families share their appreciation for helping them get better or for relieving their discomfort. And those expressions of appreciation can go a long way toward how meaningful your job feels at the end of the day.
Good Pay
Most nurses earn very respectable wages. For example, Job Bank shows that from 2017 to 2018, the median hourly wage in Canada for LPNs was $26.30. And it was $37.60 for RNs.
Of course, what you can make depends on where you live, where you work, and how much experience you have. Nurses in very rural or remote places often make more than those in urban areas. For instance, an experienced RN can earn as much as $86.69 per hour in Nunavut.
Respect
People who work in this field are admired for having a dignified career. And they often feel a heightened sense of self-assurance since they know that they can help handle medical issues or emergencies even when they aren't on the job.
Job Security
In Canada, no group of regulated health care workers is larger than nurses. Even so, Job Bank data reveals that the country has a shortage of RNs and LPNs. And that shortfall is predicted to grow to about 17,500 between 2017 and 2026 due to a population that is aging, living longer, and in need of more and more professional care.
Lively and Interesting Work Days
Forget about being bored. The life of a nurse is often filled with fascinating situations and intriguing people.
Ample Career Possibilities
The field is truly expansive. You might decide to start as a practical nurse and remain in that role. Or you could choose to become a registered nurse and specialize in one of several niche areas like pediatrics, psychiatric care, or even neuroscience.
How Is a Practical Nurse Different From an RN or a Nursing Assistant?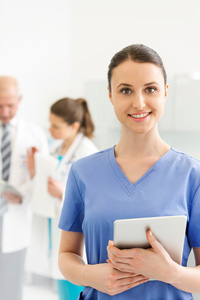 The main differences come down to the level of training and what you are allowed to do on the job. An RN generally has at least two more years of education than a practical nurse. And nursing assistants or unit clerks frequently have about one year less than practical nurses.
Practical nurses, despite requiring less time in school than RNs, tend to be slightly more involved in hands-on patient care.
Many registered nurses are responsible for supervising RPNs/LPNs and other support staff. They have the credentials to be able to make more decisions about a patient's care on their own. Thus, they are often the ones directing practical nurses or assistants in what procedures to perform.
Unit clerks primarily help the nursing staff with non-clinical, administrative functions. They assist with communication between doctors, nurses, and different departments. That lets the nurses spend more time directly with each patient.
Find a Nursing School
Please enter a valid postal code.
What Would I Be Doing Each Day as an LPN/RPN?
Mostly, you would be providing essential care to patients in a very direct way. Your day might include doing things like:
Monitoring vital signs
Supervising and assisting with nutritional intake
Dressing and looking after wounds
Assisting with personal hygiene activities
Collecting specimens for lab testing
Administering medications
Taking proper infection control measures
Educating patients and their families
Keeping track of the effects of any respiratory or intravenous therapies
Assisting with pain control
Looking after medical devices
Where Would I Work?
Most Canadian nurses work in the hospital sector. And you might have the chance to explore many other kinds of work environments as well. Nursing homes and long-term care facilities are a couple of big examples. Other employment settings include doctors' offices and clinics, mental health and substance abuse centres, rehabilitation facilities, and even private homes.
How Do I Get Licensed?
Nursing licenses are issued by your province. First, you will need to get the appropriate education. To become an RN, most provinces require you to earn a Bachelor of Science in Nursing (BSN) degree. To become an LPN or RPN, you will first need to complete a practical nursing program.
Then, in most areas of Canada, you will need to pass one of these national exams:
The Canadian Practical Nurse Registration Examination (CPNRE)
The Canadian Registered Nurse Examination (CRNE)
It's worth noting that, if you are a foreign-trained nurse, special programs exist to help you prepare for these nursing licensure tests.
How Long Does Nursing School Take?
Most LPN/RPN programs last only about two years, but some can take up to three. If you're after a career as an RN, then expect to be in school for at least four years.
Getting trained for an important support role such as nursing unit clerk usually takes less than a year.
Which Nursing Career Should I Choose?
It really depends on how soon you want to start working. Many people choose to pursue a practical nursing education at first. This can allow you to get your training in a fairly short time and begin experiencing what the field is all about without having the major time commitment of an RN education.
Then, even if you love your RPN/LPN career, you'll know that you have the option of working to advance in your profession later through an LPN-to-RN bridge program. This approach has become common among today's nurses.
Find a School Near You
Please enter a valid postal code.