By Publisher

| Last Updated March 10, 2022

Add meaning and stability to your future by becoming a professional caregiver.

Personal support worker schools offer short programs that enable driven and compassionate Canadians like you to begin health care careers that are brimming with purpose. Working in this field puts you in a position to make positive impacts in the lives of others every day while reaping some truly distinctive benefits yourself.

Personal support workers (PSWs), also known as health care aides or assistants, allow those who are chronically ill, recovering from surgery, or dealing with other physical limitations to experience greater well-being and peace of mind. And they help relieve some of the burden experienced by families and friends of the sick or disabled. Providing personal care at home or in supportive housing facilities makes life better for all kinds of clients in need.
4 Great Benefits of Being a Personal Support Worker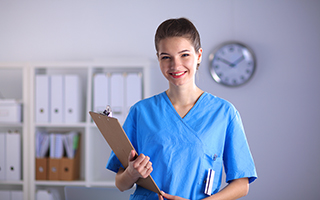 Almost all careers in the field of health and human services provide compelling benefits for those who choose them. But the benefits can be particularly intriguing for people who become personal support workers, health care aides, or residential care assistants. Here are five of the most common ones:
1. Consistent Demand and Job Security
The number of Canadians who require personal support at home or in residential or long-term care settings keeps increasing. Mostly, that's because of the nation's aging population. The Canadian Institute for Health Information says that by 2036, seniors aged 65 and over will represent about 25 percent of the population. As people age, they tend to require more hospital visits and experience higher injury, illness, and disability rates.
Personal support workers play a crucial role in helping people recover after surgical operations or living as independently as possible when they have other physical conditions limiting their ability to care for themselves. Just consider what you can learn by getting trained in personal support or health care assistance: You'll have the chance to gain skills related to helping people with personal hygiene, nutrition, exercise, and achieving a higher level of independence. You can also gain communication and counselling skills, which will help you provide emotional support. And you may learn how to operate certain kinds of equipment that are commonly used in the care of patients.
Statistics prove just how big the need is for people with this kind of training:
According to the Canadian Home Care Association, at least one million Canadians receive publicly funded home support services each year. And it's estimated that an additional 500,000 people get home care through private funding.
The University of Alberta data showed that in 2014, the number of Canadians aged 45 and over who acted as caregivers to family members or friends was 3.8 million.
So, as a personal support worker or health care aide, your ability to attend to the physical and emotional needs of others will likely be in high demand by in-home assisted living programs and long-term care facilities. Training in this field can also prepare you for opportunities in hospital environments where you can assist with basic patient care.
2. Tremendous Inner Pride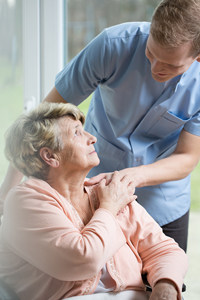 Caring for a friend or loved one who has a long-term physical limitation or health condition can be a very challenging burden. But that's why professional home care workers are so valuable. They proudly ease that burden by taking over tasks like monitoring medical changes, managing medications, assisting with personal hygiene, providing nourishment, and even helping out with common household duties. As a result, they often receive an abundance of genuine gratitude from clients and their families.
A lot of the positive impact that personal support workers have in their communities can be recognized by looking at the consequences to family and friend caregivers who don't have their support. For example, many caregivers find that their ability to generate income is negatively impacted without having extra support.
Personal support workers help reduce the economic costs to both individuals and the wider community. When they are involved in caregiving, fewer people have to leave their jobs or reduce their work hours. That results in better financial bottom lines for everyone involved—from workers to employers to provincial governments.
3. Meaningful Social Connection
Consider this: Statistics Canada says that in 2016, 14 percent of Canadians aged 15 and older lived alone. And 26 percent of all seniors lived alone. Many of those people have few friends or family members they can count on.
Being a personal care attendant often means being a client's primary link to the outside world, including to his or her family and other health professionals. It means you get to help reduce the isolation and loneliness often felt by people who are limited by illness or disability. And that means you can form positive and lasting relationships with the people you help. Simply put, you can brighten the lives of elderly, disabled, injured, and recovering individuals, making your own life brighter in the process.
4. Flexible Work Schedules
Many personal support workers have the opportunity to vary their schedules to suit their own goals and lifestyle interests. Some even contract their services part-time through multiple employers in order to increase their ability to choose where and when they want to work.