Interior Design Schools in Canada
By Publisher
| Last Updated March 10, 2022
Interior design schools give creative people like you the chance to put your talents to functional use.
Interior design is so much more than selecting the right fabrics and putting together smart colour schemes. Interior designers and decorators work closely with clients and industry professionals to help individuals and businesses create design solutions that are both functional and attractive. With the right design, a space can be transformed to convey the look and feel that the client is looking for, or to meet specific, practical needs. From accessibility to aesthetics to environmental sustainability, the areas you can choose to focus on as an interior designer are truly intriguing.
Whatever direction you decide to take, you can learn to take a client's vision, combine it with your expertise, and produce an aesthetically pleasing outcome.
Find a School Near You
Please enter a valid postal code.
Top 4 Reasons to Consider an Interior Design Career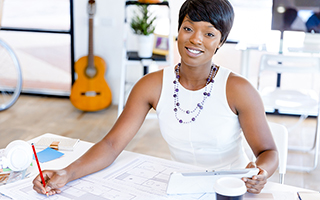 Working as an interior designer is about more than just making a space look attractive. It is the job of interior designers to find unique, creative solutions for interior spaces. For the average homeowner, this could mean altering the design of a room to support the health and safety of an individual. For a business customer, this could mean developing design schemes that make the most use of small spaces and support both the well-being and productivity of employees.
Every Day is a New Day
Perhaps the greatest benefit for interior designers is the variety of work performed. No two customers are going to have the same interior design needs, which means each time you start with a new client you are going to be starting with a clean slate. You'll need to research and analyze the needs of each individual customer to create a design scheme that successfully completes their unique project.
Variety of Applications
Interior design does not just apply to creating usable spaces in office complexes and homes. You could find ample opportunities to work in a variety of different settings that will keep you on your toes.
According to Service Canada, some of the most common interior design occupations in the country include:
Aircraft interior designer
Kitchen designer
Project manager
Retail space planner
Each of these career opportunities offers a different challenge in a different setting.
For example, sustainable interior design is growing in importance and popularity. Many interior design programs offer components that focus on sustainable design. So, you get the opportunity help the environment while making a good living.
Good Pay
Interior designers are paid well for their work improving the physical spaces in homes and office complexes across Canada. According to Job Bank data, the median annual income for an interior designer is $48,000, and with experience and skill, yearly salaries go up as high as $90,000.
Sustainable Design: Learning to Create Eco-Friendly Spaces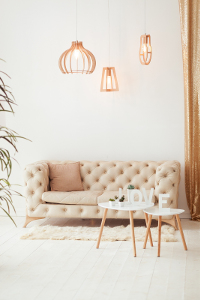 As environmental awareness increases, eco-friendly practices are making an appearance in all kinds of career fields, and interior design is no exception. Many interior design schools are now offering full programs (or at least multiple courses within their interior design programs), that can teach you how to incorporate eco-friendly practices into the art of interior design.
What is Sustainable Interior Design?
Sustainable interior design involves integrating environmentally sustainable processes and materials into the design, planning, and construction of indoor environments. From choosing recycled, repurposed, and low-emitting materials to using paint that is free from volatile organic compounds (VOCs), an interior design school can teach you many ways to decrease the environmental impact of homes and businesses.
A sustainable design program from an interior design school can also prepare you to consider these five important factors during the design process:
Indoor air quality
Renewable resources
Water efficiency
Energy savings
Reduction of CO2 emissions
Industry Certification
After graduating from an interior design school, you will have the opportunity to pursue Leadership in Energy and Environmental Design (LEED) certification from the Canada Green Building Council.
The LEED certification examinations are administered by the Green Building Certification Institute (GBCI). There are currently two examinations available, the first being the LEED Green Associate exam, which tests your general knowledge of green building practices. The second option is the LEED AP examination, which includes two parts. The first part covers general green building practices, while the second is based on one of five specialties—with LEED AP Interior Design being one of the available choices.
Find a School Near You
Please enter a valid postal code.