Office Administration Training Schools
By Publisher
| Last Updated March 10, 2022
Canadians who complete office administration training can benefit from a wide availability of job opportunities and strong potential for career advancement. Programs tend to be relatively short, making it possible for some students to enter the job market in just a matter of months.
Find a Office Administration School Near You
Please enter a valid postal code.
Education & Training
Compared to a lot of other fields, office administration doesn't require much post-secondary education. You can gain valued computer, clerical, and administrative skills that are suitable for workplaces in almost any industry.
Length of Training
For full-time students, office administration programs are generally designed to last anywhere from four to 24 months. At many colleges, it takes less time to earn a certificate than a diploma.*** But program lengths vary significantly from school to school.
Most Common Length of School***
(range in months)
Office administration

Event planning

Marketing

Business management
Program Options
Office administration training is typically offered through one of these options:
Certificate program: This is often the shortest educational option, taking as little as four months to as long as a year.*** The training tends to focus on helping students develop entry-level skills in a fairly streamlined format.
Diploma program: At this level, students often take a wider variety of courses while still learning career-ready skills. At some colleges, it can take as few as six months to complete the training. At others, it can take up to two years.***
Typical Courses
Curricula vary from college to college. But you may have classes that cover areas such as:
Common administrative procedures
Basic accounting and bookkeeping
Business math
Keyboarding
Business software
Communication for business
Workplace relations and professionalism
Customer service
Career preparation
Skills You Can Learn
Depending on the particular program, office administration students can learn skills related to:
Using popular business software
Creating reports, presentations, and other documents
Building and modifying spreadsheets
Managing electronic files and databases
Typing quickly and accurately
Writing and speaking clearly and effectively
Maintaining financial records
Processing payroll and financial transactions
Allocating administrative resources
Managing projects
Planning budgets
Scheduling meetings and appointments
Using social media for marketing purposes
Tools & Technology
Office administrators often need to know how to use computer programs that are commonly used for email, word processing, spreadsheets, presentations, database management, accounting, payroll, and bookkeeping. Popular examples include:
Microsoft Office:

Outlook
Word
Excel
PowerPoint
Access

Sage 50
QuickBooks
Licensing & Certification
Office administration is not a regulated profession in Canada. You don't need to earn any kind of government license or certification. Vendor certification in the use of specific business software is voluntary.
For certain high-level administrative positions, some employers like to hire experienced professionals who are certified in project management through an independent organization such as the Project Management Association of Canada or the Project Management Institute.
Find a School Near You
Please enter a valid postal code.
Education & Training FAQs
Can I take an office administration program online?
Several Canadian colleges offer online certificate and diploma programs for this field. They provide busy students with the extra flexibility they need to complete their education. You can generally study from home or wherever you have a reliable Internet connection. It's a good option for students who have family responsibilities or need to hold down a job while taking classes.
Do I need a university degree in order to get a supervisory or managerial position in an office?
Not necessarily. It depends on the particular employer, but experience often counts more than your educational credential. In fact, a lot of organizations prefer to promote their existing employees. Some even pay for additional education or training that may be necessary. That said, some employers—particularly larger ones—do prefer to hire people with degrees in business administration or business management for senior positions.
Career Information
Office administrators are employed by nearly every type of organization. Their job duties tend to put them at the very heart of the operations that they help run efficiently and effectively. They often add significant value wherever they work, giving them the opportunity to enjoy a number of professional benefits.
Career Outlook*
6.1% growth from 2019-2028
Median Salary*
Office Administrators
Job Openings*
Average Yearly Openings
Length of Training
Most Common Length
Work Settings
Specializations
Accounting support, medical office administration, human resources support, legal assistance
Sources
Government of Canada Job Bank
Canadian Occupational Projection System
Canada.ca
Earnings
According to the Government of Canada Job Bank, the median hourly wage of office administrators is $26.44. Based on full-time work of 40 hours per week, that translates to a median salary of about $55,000.
Job Openings & Outlook
Estimates from the Canadian Occupational Projection System (COPS) show that the employment of administrative officers (an occupational group that includes office administrators) could grow 6.1 percent from 2019 to 2028.
COPS projections also indicate that, on average, about 9,190 positions for administrative officers could open up each year over that 10-year period. About 1,460 of those yearly openings are expected to be generated by employment expansion in the field. The remaining positions will arise because of people retiring or moving into different occupations.
Key Benefits
Abundant opportunities: In addition to administrative officers, people in this field typically have skills related to a variety of similar occupational groups. COPS projections show that, between 2019 and 2028, a total of more than 35,000 job openings could be created each year, on average, for people in related careers.**
Advancement potential: Even if you begin your administrative career in an entry-level role, the experience and insider knowledge you gain can help you move up into positions with higher pay and greater responsibility.
Consistent work schedules: In many workplaces, office administrators enjoy predictable hours of work, which makes it easier to plan their personal time. Whether you volunteer, care for a family, or engage in hobbies, a regular work schedule can help you achieve a more balanced life.
What an Office Administrator Does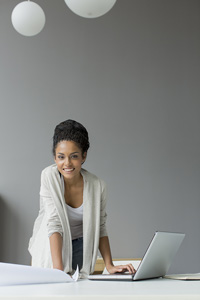 A lot depends on the particular employer and position, but an office administration professional may perform tasks like:
Evaluating, recommending, and implementing office procedures
Scheduling meetings and appointments
Managing the inventory of office supplies
Arranging for the purchase of necessary equipment or services
Assisting with budgetary planning
Providing help with accounting, payroll, or bookkeeping tasks
Compiling research and preparing reports or presentations
Building and maintaining databases and spreadsheets
Making business travel arrangements for staff or executives
Organizing special events
Writing business correspondence
Managing files and records (paper and digital)
Updating social media accounts
Answering phones and greeting visitors
Taking the minutes (notes) in meetings
Supervising other office support staff
Work Settings
People in this field are employed in nearly every industry. They primarily work in the offices of:
Businesses
Schools
Government agencies
Health facilities
Law firms
Non-profit organizations
Professional associations
Find a School Near You
Please enter a valid postal code.
Careers
An education in office administration can help prepare you for occupations like the following examples.
Office manager: Oversee the administrative support operations in a workplace, which may include supervising other staff and handling a variety of specific functions like those listed above.
Administrative assistant: Provide support to one or more professionals in a workplace by performing a wide range of clerical, organizational, and interpersonal tasks that help an operation run smoothly.
Accounting clerk: Prepare basic financial statements and reports, calculate and issue bills and invoices, and process various financial transactions according to an organization's established procedures.
Bookkeeper: Maintain an organization's records of financial transactions, including income and expenses, and prepare reports for managers when necessary.
Executive assistant: Support one or more of an organization's senior managers, officials, or high-ranking staff by handling things like research, document assessment, report writing, and other complex tasks at a high level.
Human resources assistant: Help compile and maintain an organization's employee records and assist with hiring efforts or staff training activities.
Payroll clerk: Assist with gathering, confirming, and processing the information used for determining the amount of wages and benefits an organization's employees should receive each pay period.
Specializations
Many office administrators choose to work in a particular industry or area of focus. You can find programs designed to help students prepare for career specialties such as:
Accounting support: Specialize in providing assistance with financial recordkeeping.
Medical office administration: Work in health care facilities such as doctors' offices, clinics, or hospitals after gaining specialized skills for handling patient records and performing other duties that are unique to such settings.
Human resources support: Focus on providing help with hiring, training, and retaining employees as well as keeping good personnel records.
Legal assistance: Take on clerical and administrative support roles for law firms, corporate or government legal departments, or other settings where some basic legal knowledge is necessary.
Career FAQs
How can I get an office administrator job with no experience?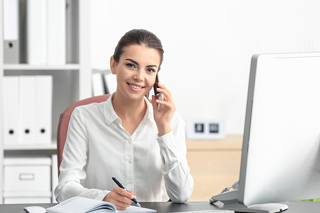 Start by getting a college education in office administration. Look for programs that include a course in career development as well as a practicum so that you can gain valuable real-world experience before graduating. The employer that provides your practicum opportunity can become a good reference and network contact for your future job search. Focus on trying to master your clerical, interpersonal, and computer skills while working in an actual office environment.
As you start your job search, you may have the best luck approaching small businesses and temporary staffing agencies, which are often more willing to hire educated people who don't yet have experience.
Also, keep an open mind. Don't shy away from beginning your career in an entry-level role. The goal is to build a track record that demonstrates your reliability. Even if you start out as a receptionist or accounting clerk, the combination of your experience and education in office administration can help you advance into higher roles.
Is office administration hard work?
Like any other line of work, it requires effort and can sometimes be challenging. But many office administrators enjoy the challenges. Those who thrive in this field tend to be good at:
Staying organized
Managing time
Communicating clearly
Seeking and accepting feedback
Clarifying expectations
Paying attention to the details
Anticipating the needs of others
Protecting confidential information
Keeping a positive, friendly demeanor
Showing genuine interest in their organizations' success
---
* Office administrators are part of the administrative officers occupational category that includes supervisors in the field.
** The 35,000-plus yearly job openings estimate is based on a total of COPS projections for administrative officers and related occupational groups including accounting and related clerks, administrative assistants, executive assistants, accounting technicians and bookkeepers, receptionists, payroll clerks, data entry clerks, desktop publishing operators, and general office support workers.
*** Length of training information is based on a combination of information from the Government of Canada Job Bank, the government of Canada's post-secondary search tool, and a wide sampling of relevant program lengths from up to 30 individual school websites. They are a mix of public, private non-profit, and private for-profit institutions.