Barber and Hair School Options
By Publisher
| Last Updated March 10, 2022
Enter a creative trade that provides some very exciting options.
Going to a hair school can give you the confidence and practical skills to succeed in the beauty industry. It's a terrific way to learn the basics of cutting and styling hair before starting your career. That's true whether you want to become a hairdresser or barber. School can offer a fun and reliable path into both vocations.
After all, formal training is what many employers in the hair care field prefer. And it can empower you to discover marketable talents you may not have explored yet, which is really the bottom line. Many of Canada's barbering and hairstyling schools are set up to help you uncover and maximize as much of your talent as possible.
So get a practical education that may lead to plenty of vibrant and flexible career opportunities. The abilities you acquire might just be the key to unlocking some of your most important goals. Have a look at the featured hair schools below, or find one close to home by using your postal code!
Find a School Near You
Please enter a valid postal code.
3 Valuable Facts About Hairstyling and Barbering Careers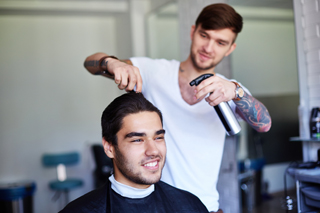 Most Canadians would probably agree that barbers and hairdressers play an important role in their lives. Having well-groomed and stylish hair can make us feel more like ourselves. Even something as simple as a quick cut or colour often has the power to transform a person's outlook and energize his or her personality.
That's one reason why so many people continue to seek out talented hair care professionals. Beyond routine trimming, a lot of people truly need the extra services and advice that only come from skilled experts. And that's not expected to change soon. According to the Government of Canada Job Bank, about 25,900 job openings are anticipated nationwide between 2019 and 2028, with slightly over 30,000 new job seekers available.
It's clearly a big market. But succeeding in this field requires some special knowledge. Here are three of the most useful things to know if you aspire to work in this field:
1. The Roles of Barbers and Hairstylists Are a Little Different
It's true that, in some trendy establishments, the line between barber and hairstylist is starting to blur. But, overall, the main differences between these two vocations still tend to be quite noticeable. For example, even though both kinds of professionals are trained to cut hair and provide various hair treatments, they generally differ when it comes to:
The gender of their clients: Barbershops usually have mostly male clientele, although women are often welcome. In contrast, hairstylists in beauty salons serve many people from both genders, yet tend to offer or specialize in more services for women than for men.
Facial shaving: Barbers receive training in how to closely shave or trim men's beards and mustaches, particularly with a straight razor. Hairstylists don't typically offer that service unless they are also barbers.
Fashionable and trendy hairstyles: Even though many barbershops are evolving, barbers generally stick to cutting or treating hair based on simple and classic styles that are quick and efficient to pull off. Hairstylists, on the other hand, usually offer a lot more variety, especially in terms of emerging and trendy styles. They also tend to have a little more creative leeway and provide more personal consultation in terms of stylistic suggestions based on their clients' facial features.
2. Having an Entrepreneurial Spirit Can Help You Succeed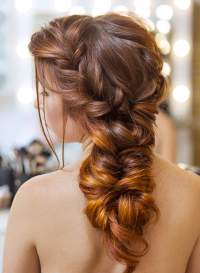 A skilled barber or hairstylist can go a long way on his or her talents. Just think of some of the hair pros who've achieved celebrity status within this field. But to approach that level of success, it takes a combination of talent, dedication to your craft, and a go-getting attitude.
By cultivating the mindset of an entrepreneur, you can go well beyond the success of the average hairdresser or barbering pro. For example, Job Bank states that the median hourly pay of hair professionals in Canada is about $16.00, plus tips, for full-time work. Yet many experienced hair care pros go on to earn more, plus tips.
It's possible to build a loyal clientele that lets you earn a lot more. In fact, some enterprising barbers and hairstylists are eventually able to generate six-figure incomes by growing their own businesses through a little creative thinking and steady pursuit of success. For many hair pros, it comes down to finding a particular niche, sometimes outside of a salon or barbershop setting. Imagine possibilities such as:
Providing mobile hair care services to other busy professionals who will pay extra for the convenience of having you come to them
Working with therapeutic medical programs to style wigs for cancer patients
Offering on-site makeover services at special events like birthday parties, proms, or weddings
Specializing in fast, yet high-quality hairstyling or barbering for fashion shows or film, television, or commercial photo shoots
Find a Barber/Hair School
Please enter a valid postal code.
3. You Don't Need Much Schooling to Get Started
A lot of barbering and hairstyling programs in Canada take less than a year to complete. They can give you a leg up when looking for an employer to continue your development and begin acquiring clients. And they usually help you prepare for any certification exams you may need or want to take. (Some provinces and territories regulate barbers and hairstylists, so it's a good idea to investigate any requirements that might exist where you intend to work.)
Even in provinces that don't require any special licensing, it's still often recommended that you attain certification through an industry organization. For instance, in Western Canada, hairdressers can earn a Certificate of Qualification from BeautyCouncil. Qualified barbers and hairstylists can also earn an interprovincial Red Seal endorsement on their trade certification.