Network Administration Schools & Colleges
By Publisher
| Last Updated April 25, 2022
Network administration schools can help you reach your goal of becoming a technology professional essential to your field.
Think about the advantages of getting this type of education: You'll have the chance to learn how to work with complex computer networks and sophisticated technical systems that keep people and organizations connected. Through network administration training, you may get to develop very marketable skills related to configuring, maintaining, and managing local area networks (LANs), wide area networks (WANs), and Internet and intranet systems. And you'll start learning valuable skills related to monitoring network performance, troubleshooting problems, implementing security measures, and supporting a network's users.
Plus, getting formal training in this area of information technology (IT) often makes it a lot easier to attain the types of network administrator certification that many employers look for. As a result, you may be able to pursue job opportunities in organizations of every size and in almost any industry where computer networking is required.
Find a Network Administration School Near You
Please enter a valid postal code.
Computer Networking Career FAQs: Answers to 6 Common Questions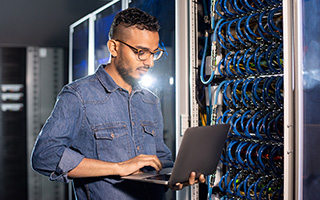 Every developed nation on Earth now relies on secure and efficient computer networks for fast information sharing. Canada is certainly no exception. In fact, networking is a core technology that enables our country's businesses to innovate, grow, and compete at the global level. And well-designed and maintained networks also help Canada's schools, government agencies, and other organizations stay relevant and effective in this constantly changing world.
It's also impossible to overlook the importance of networks to individual Canadians and their families. For example, one report says that almost 75 percent of Canadians spend at least three to four hours a day using the Internet, the world's largest and most complex network. And about 34 percent of all people in this country use the Web most often with mobile devices such as smartphones, which are connected to extensive cellular networks and allow people to go online almost anywhere.
That's why it is hard to overstate the positive impact that networking professionals have on our lives. They help keep everything running. And for their essential contributions, they often earn great incomes. In fact, the average network administrator salary might be higher than you realize.
Learn more about computer networking careers right now by checking out the answers to the following frequently asked questions:
1. What Is Network Administration?
Network administration is the process of keeping a system of interconnected computers, servers, and other electronic devices and equipment operational, efficient, and secure. It's all about managing networking technology in a way that allows computers and their users to quickly and reliably access data and share information with each other. And it's about ensuring that only authorized people are able to access certain systems and databases.
That's what makes network administration so important. The stability and security of computer networks is critical to the success of most organizations. When networks are illegally breached or stop working, organizations can suffer from financial losses as well as reduced productivity and poor reputations.
In fact, for Canadian organizations in 2021, the average cost of a data breach was $6.75 million. Data breaches often occur as a result of malicious cyber-attacks, system glitches, human error, or employee negligence. Proper network administration can help prevent such costly breaches.
But managing networks is frequently a complex process. It requires trained professionals who know how to configure and maintain components such as:
Switches and routers—Pieces of electronic hardware that distribute packets of digital data between different computers and devices or between two or more networks
Servers—Centralized computers that provide data storage, resources, and other services for several users of the same network
Personal computers—Laptops or desktop computing devices that are often connected to shared networks and need to be maintained as part of those networks
Mobile devices—Smartphones, electronic tablets, and other small devices that many people use to connect to private or public networks
Firewalls—Devices that prevent unauthorized users from accessing private networks while still allowing outward communication and data sharing from those networks' authorized users
2. What Are the Most Common Job Titles in the Field of Network Administration?
Network technology professionals have all sorts of job titles. Truth be told, a consistent standard doesn't exist. When you have a career in this field, your job title is usually dictated by the employer you work for. And different organizations often have different ways of referring to people with this occupation. For example, some of the various job titles that are used in Canada include:
Network administrator
System administrator
Network systems administrator
Network systems manager
Network support technician
Data centre operator
Network analyst
Network manager
Networking specialist
3. What Does a System Administrator Do?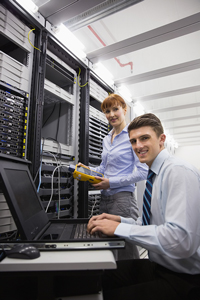 Regardless of their job titles, people who work in the field of network systems administration get to enjoy some of the most valued and fascinating roles in IT. They often handle a compelling variety of tasks that are geared toward keeping networks secure and running smoothly. Although particular tasks vary from one employer to the next, a typical network administrator job description frequently includes duties such as:
Configuring and maintaining computers, servers, switches, routers, and firewalls
Testing, monitoring, and optimizing the performance and security of local area networks (LANs) and/or wide area networks (WANs)
Troubleshooting problems related to bandwidth, user connectivity, user permissions, and many other aspects of networking technology
Evaluating new technologies and potential upgrades
Installing computer and network hardware and software
Assigning network permissions to various users based on their authority to access certain kinds of data
Setting up Web servers and intranet sites
Backing up data and assisting with the recovery of data after accidents or hardware failure
Helping and training the end users of computer networks
Those are some of the most common network administrator roles and responsibilities, but people with this occupation often have additional duties beyond the ones listed above. For instance, a network manager job description at a telecommunications company may include duties related to ensuring that specific government regulations are being followed. Or a senior network administrator job description at another company may include some hiring and supervisory duties.
Find a Technology School
Please enter a valid postal code.
4. How Much Does a Network Administrator Make?
Data from the Government of Canada's Job Bank indicates that during the 2016-2017 fiscal year, the median network systems administrator salary in Canada was about $66,664, which is equivalent to $32.05 per hour. Of course, most people begin their careers at the entry level and progressively earn higher wages as they acquire experience and move into higher positions. So, for example:
Nationwide, the lowest earners in this field made about $17.50 per hour, which means that a typical junior network administrator salary is probably around $36,400.
The highest earners in this field made $48.72 or more per hour, which means that it's possible to earn a networking administrator salary of more than $101,338 if you get a senior-level position.
Location also plays a significant role in determining the computer networking salary that you might earn. As an example, take a look at the provinces with the highest median wages for networking professionals, according to Job Bank data:
Alberta—$39.50 per hour (about $82,160 yearly)
Saskatchewan—$35.82 per hour (about $74,506 yearly)
Ontario—$34.00 per hour (about $70,720 yearly)
5. What Does It Take to Become a Network Administrator?
In order to become an entry-level network administrator, you will probably need to, at minimum, complete a formal technical or vocational training program and also earn at least a few popular certifications. Fortunately, a lot of network administration programs only take around seven to 10 months (in comparison to the four years that earning a computer science degree would take). And some programs take even less time if you're only looking to learn the very basics and become a support technician.
When it comes to network administrator certification, the options vary a lot. Plus, different employers may prefer different credentials since certifications are often vendor-specific and related to particular brands of networking hardware and software. So it's often wise to research your potential employers before pursuing certain credentials. However, some of the most commonly sought-after certifications include:
CompTIA A+, Network+, and Security+
Microsoft Certified Solutions Associate (MCSA)
Microsoft Certified Technology Specialist (MCTS)
Microsoft Certified IT Professional (MCITP)
Cisco Certified Network Associate (CCNA)
Cisco Certified Network Professional (CCNP)
Cisco Certified Internetwork Expert (CCIE)
Wireshark Certified Network Analyst (WCNA)
VMware Certified Professional (VCP)
Juniper Networks Certified Enterprise Routing and Switching Expert (JNCIE-ENT)
Keep in mind that some of the examples listed above are considered advanced certifications for people with at least a few years of experience. Plus, when you're applying for jobs as a network administrator, requirements of this nature are sometimes not explicitly listed. So, instead of assuming that an employer's network admin job description is complete as stated, don't be afraid to ask questions.
6. Is the Outlook Good for Networking Specialists?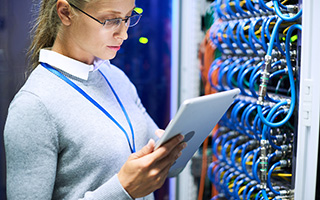 Yes, especially since computer networks keep evolving. Just consider how much they've advanced already. Today's networks are a long way from the slow and cumbersome systems of the 1970s that relied on stationary terminals connected to large mainframes. Ongoing advances in technology have given us super-fast wired and wireless networks that allow us to connect small mobile devices, store our information in "the cloud," and take advantage of the Internet's almost limitless potential.
As networking technology continues to evolve, so will the opportunities. Organizations of every variety will need network administrators and technicians with the expertise to transition to (and manage) new technologies that provide better security, more stability, higher speeds, and fresh advantages that few people can even imagine right now. Internet-connected wearable devices and smart appliances are only the beginning. The world's electronic networks are set to keep expanding exponentially.
That's one reason why, from 2017 to 2026, about 22,300 job openings are expected to become available in Canada for computer networking professionals, according to Job Bank data. In this field, there is always more to learn because there is always something new on the horizon. Employers will continue to need the services of networking professionals who love evolving their skills while learning about the latest technological advances.
Find a School Near You
Please enter a valid postal code.