Supply Chain Management Programs
By Publisher
| Last Updated March 10, 2022
Supply chain management programs can help position you to work in a diverse field that affects virtually every part of a company's operations.
Whether big or small, every business relies on a smoothly functioning supply chain to keep products flowing, costs down, and customers happy. Getting goods and services from where they are to where they need to be at the right time, in the right amounts, and at the right price is key to bolstering an organization's competitive advantage. Supply chain management training can help you establish a solid foundation of skills related to coordinating an entire range of functions, from customs compliance to contract management and much more.
Find a Supply Chain Management Program Near You
Please enter a valid postal code.
Careers in Supply Chain Management: 4 Popular Questions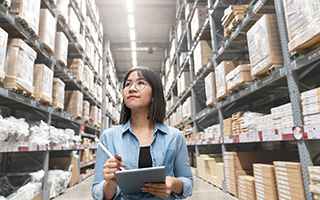 According to a Canadian Supply Chain Sector Council report, more than 875,000 Canadians were involved in supply chain-related roles in 2018. Supply chain management programs can help you gain the skills to stand out from the competition in this rapidly expanding industry.
Curious to find out more? Check out the following answers to four of the most common questions about the supply chain management field:
1. What Is Supply Chain Management?
Let's begin with a typical supply chain definition: an interlinked network of organizations and resources used to produce and distribute goods. A supply chain includes all the players needed to bring a product to market: suppliers, manufacturers, wholesalers, transportation carriers, warehouse providers, and more. Therefore, here's a basic supply chain management definition: the strategic coordination of all activities involved in creating and delivering products.The goal is to optimize the process so that a final product reaches consumers as efficiently and as cost-effectively as possible.
Even within the industry, many people use "supply chain management" and "logistics management" interchangeably. But while they are closely related, they are not precisely the same. So, what is logistics? It is the aspect of supply chain management that deals with controlling the flow and storage of goods. Simply put, logistics keeps things moving through the supply chain in a timely and efficient manner. Supply chain management has a broader focus and encompasses product development, sourcing, forecasting, packaging, and other activities, in addition to logistics.
The more efficiently a supply chain operates, the more successful a business can be. A PwC study revealed that companies with top-notch supply chains are 20 percent more profitable and have 50 percent higher sales growth.
2. How Can I Train for This Field?
Supply chain management courses are available at universities, colleges, and vocational schools across Canada. The Canadian Supply Chain Sector Council recognizes many through its National Accreditation Program. Accreditation is not required, but it does ensure that the program meets specific national standards.
Programs vary, but they typically cover topics such as:
Procurement
Freight forwarding
Customs procedures
Contract law
Demand forecasting
Inventory control
Domestic and international transportation
Materials handling
Warehousing and storage
Negotiation techniques
Operations planning
Supplier management
Some degree programs in commerce or business administration offer concentrations in supply chain management. These are typically four years long.
Diploma or certificate programs generally take about a year to complete. Many include internships that allow you to get practical work experience even before graduating. You can often enroll in such programs right after finishing high school.
Specialized programs are also available for candidates who have already earned post-secondary credentials. In addition, professional development courses are widely available from industry associations throughout the country for those working in the field and wishing to advance their careers.
3. What Are the Options for Supply Chain Management Certification?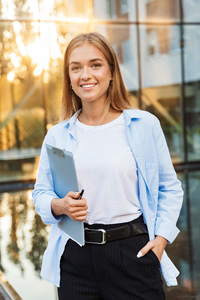 Several organizations across Canada offer supply chain certification. Here are a few options to consider:
The Supply Chain Management Association offers the internationally recognized Supply Chain Management Professional (SCMP) designation (known as Certified Supply Chain Management Professional or CSCMP in Ontario). To begin the certification process, you must be a member of the association and have a business-related diploma or degree (or complete courses in seven specific areas). The educational requirements may be waived if you have at least ten years of professional work experience.

The certification program comprises eight modules and six workshops, an intensive week-long capstone experience, and a final exam. You also need at least three years of practical experience that advances incrementally in its scope and duties to earn the designation. At least two of those years must be after you enroll. The entire process can be completed in three to five years.

The association has agreements with both the Institute for Supply Management in the U.S. and the Chartered Institute of Purchasing & Supply in the U.K., so professionals who hold the SCMP designation can receive reciprocal designations in those two countries.
The Forum for International Trade Training (FITT) offers the Certified International Trade Professional designation for logistics professionals and others working in global trade. You must earn the FITT Diploma in International Trade, which requires completing six courses either through FITT or a post-secondary institution. You also need one year of work experience in international business.
APICS offers a variety of credentials, including the Certified Supply Chain Professional (CSCP) designation. You must have either a bachelor's degree or three years of business experience to be eligible, then pass an exam. Maintaining the designation requires recertifying every five years.
4. What Is a Typical Supply Chain Management Salary?
Here are median earnings for a few examples of supply chain occupations. (Salaries are calculated from hourly wage data provided by the Government of Canada's Job Bank and full-time incomes; figures are rounded to the nearest thousand.)
Supply chain managers: $104K
Purchasing agents: $67K
Distribution And Transport Logistics Technician in Canada: $53K
Note that your earnings can be higher or lower depending on which part of the country you live in and your experience.
Find a School Near You
Please enter a valid postal code.