Medical Transcription Schools & Colleges
By Publisher
| Last Updated March 10, 2022
Medical transcriptionist training can prepare you to become a major player in the effort to provide Canadians with quality health services that are based on timely and accurate information. By completing a short program, you can learn how to turn doctors' voice recordings into reports that serve as the basis for critical decision-making about patient care.
Find a Medical Transcription School Near You
Please enter a valid postal code.
Education & Training
Training in this field can help you gain the skills to pursue a rewarding career converting health professionals' recordings into readable, accurate, and complete reports.
Length of Training
A medical transcription course is generally nine to 12 months long at a vocational school or community college.**
You can also become a medical transcriptionist at home via online training. Many online programs allow you to work at your own pace and can be completed in four months to a year.**
Most Common Length of School**
(range in months)
Medical transcription

Medical office administration

Court reporting

Health information management
Program Options
Certificate programs are available from community colleges, technical institutes, and career colleges. Many are delivered partially or entirely online.
Typical Courses
Medical terminology
English grammar
Computer applications
Keyboarding skills
Medical billing
Anatomy and physiology
Pharmacology
Transcription methods
Medical record formatting
Many programs also include a short practicum or opportunities to practice transcribing or editing real-world dictations.
Skills You Can Learn
Recognizing common procedures, lab tests, and medications
Converting medical abbreviations and acronyms into proper form
Identifying and correcting errors and inconsistencies in auto-generated texts
Adhering to ethical and legal standards
Tools & Technology
Computer and headset
Word processing software
Transcription software such as Express Scribe or InqScribe
Foot pedal so you can pause, rewind, or fast forward the audio without using your hands
Medical dictionaries or industry-specific terminology manuals
Text expander software that allows you to set up custom shortcuts for frequently used phrases or terms (optional)
Some programs supply the foot pedal and headset along with materials like the Association for Healthcare Documentation Integrity (AHDI) style guide.
Certification
You don't need any special licensing or certification to get started in this field. However, the Association for Healthcare Documentation Integrity (AHDI) offers a voluntary credential called the Registered Healthcare Documentation Specialist (RHDS). This certification is useful for setting yourself apart from other medical transcriptionists in the eyes of potential clients and employers.
After earning your RHDS designation and accumulating at least two years of experience related to acute care, you can pursue the Certified Healthcare Documentation Specialist (CHDS) certification from the AHDI.
Note: The RHDS and CHDS designations have replaced the former designations of Registered Medical Transcriptionist (RMT) and Certified Medical Transcriptionist (CMT).
Education & Training FAQs
Can you be a medical transcriptionist without training?
Most entry-level medical transcriptionist roles are limited to candidates who have completed a formal training program. Certification is not strictly necessary, but many employers prefer candidates who have it.
Find a Medical School
Please enter a valid postal code.
What should I look for in a medical transcription training program?
Consider how long a program will take, how flexible the scheduling is, and how much hands-on experience it provides. The best school for medical transcription (either on-campus or online) is one that provides plenty of access to course instructors so that you can easily get assistance. You may want to see if the instructors are AHDI-certified.
Find out where graduates of the program commonly find work. If possible, get in touch with recent graduates and ask about their experiences. And be sure to check if the program offers any job placement assistance.
Career Information
Medical transcription is a field that's known for flexible work arrangements. Healthcare documentation is growing more sophisticated, so there are all kinds of possibilities for those who are trained to understand medical dictation and recognize potential errors before they become a problem.
Career Outlook*
2.4% growth from 2019-2028
Median Salary
Medical Transcriptionists
Job Openings*
Average Yearly Openings
Length of Training
Most Common Length
Work Settings
Sources
Government of Canada Job Bank
Canadian Occupational Projection System
Earnings
According to the Government of Canada's Job Bank, medical transcriptionists have a national median wage of $23.00 per hour. That works out to about $47,840 annually for full-time work. The highest earners make as much as $29.65 an hour or more (about $61,672 yearly).
Most transcriptionists do not work on salary. Rather, they are paid by how much they produce. So an in-office or at-home transcriptionist makes more as his or her speed and efficiency increase.
Median Annual Wage Comparison
Job Openings & Outlook
The Canadian Occupational Projection System (COPS) includes medical transcriptionists in the same category as court reporters, records management technicians, and statistical officers. Between 2019 and 2028, about 6,300 jobs are expected to open up in this category (about 630 openings per year, on average).
Job Bank data indicates that the outlook for medical transcriptionists and court reporters is good in British Columbia, Saskatchewan, and Manitoba. The outlook is fair in Ontario, New Brunswick, and Nova Scotia.
Key Benefits
Chance for a flexible schedule: Transcriptionists can often choose their own hours.
Opportunity to work from home: Set up wherever you have a computer and a reliable Internet connection.
Low barrier to entry: You can complete the training in a year or less.**
What a Medical Transcriptionist Does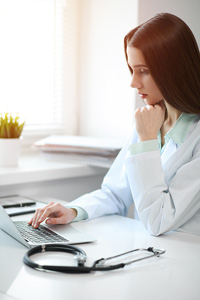 Medical transcriptionists turn physicians' audio recordings into accurate written medical reports. They also edit, format, and proofread medical reports that have been generated by voice recognition software. Those reports could be anything from patient histories and clinic notes to consultation reports and discharge summaries.
Without medical transcriptionists, such reports wouldn't get produced or doctors wouldn't have enough time to look after each patient properly. Transcriptionists' work is essential to keep the healthcare system functioning and help ensure that patients receive the appropriate treatment.
Work Settings
Medical transcription professionals can be found in:
Physicians' offices
Hospitals
Diagnostic laboratories
Specialty clinics
Medical research centres
Veterinary care facilities
Government agencies
Insurance companies
This field is full of self-employed, independent contractors who make their own schedules. And they can work almost anywhere that they have a secure online connection. In most cases, that's at home. But some transcriptionists also take their work with them when they travel, as long as they have an agreement with their clients to do so.
Some employers also provide the option of working at least partially at home. The advanced software they use makes it possible to allow their transcribers to do that without sacrificing patient privacy or information security.
Career FAQs
Is medical transcription still in demand?
There is still a need for people to do this kind of work. Increasingly, doctors and healthcare organizations that had been sending their transcription work overseas are finding that it's actually more beneficial to use Canadian transcriptionists. That's because many of the reports they get back from foreign transcriptionists are riddled with errors and end up needing to be edited and corrected by Canadians anyway.
Plus, speech recognition software isn't good enough to understand the huge and growing variety of medical terminology, let alone different doctors' accents. As a result, many organizations are either scrapping the technology altogether or hiring medical transcriptionists to edit the reports it produces. In fact, it's created a whole new job title: speech recognition editor.
Is medical transcription a good career choice?
Transcribing can be a good choice for detail-oriented people who like the idea of working from home on a flexible schedule.
This career rarely gets dull. In fact, it keeps your attention because it's all about capturing what you hear in a way that's readable and medically precise. Different doctors have different accents to learn. And the diversity of information included in their dictations can make for a constantly engaging experience.
Find a School Near You
Please enter a valid postal code.
---
* Medical transcriptionists are part of a broader category that also includes court reporters, records management technicians, and statistical officers.
** Length of training information is based on a combination of information from the Government of Canada Job Bank, the government of Canada's post-secondary search tool, and a wide sampling of relevant program lengths from up to 30 individual school websites. They are a mix of public, private non-profit, and private for-profit institutions.