Dental Assistant Schools & Colleges
By Publisher
| Last Updated March 10, 2022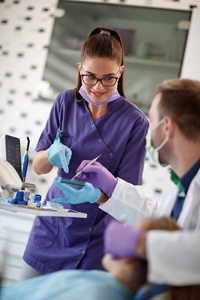 Prepare yourself for a career in a sector of health care that's expected to offer excellent job opportunities. Dental assistant schools can offer you the training needed to activate bright employment prospects.
The Canadian Dental Assistants Association estimates there are between 26,000 and 29,000 dental assistants in Canada. And the vast majority have received their certification or license with help from an accredited training program. As a dental assistant, options for work settings include private dentist offices, hospitals, and regional health clinics.
Get tips on choosing the right school and read more about this field by checking out the detailed FAQ section on dental assisting training and careers. Or start your journey now by using the convenient postal code-based search tool below to help you discover a nearby school!
---
Dental Assistant Schools
Sponsored Listings

Abbotsford, BC
Chilliwack, BC
East Vancouver, BC
Maple Ridge, BC
New Westminster, BC
Richmond, BC
Surrey, BC
Vancouver - Pender, BC

Brampton, Ontario
Scarborough, Ontario
Toronto, Ontario
Online
Dental Administrator
Dental Administrator Online
Intra-Oral Dental Assistant
---
Find a Dental School Near You
Please enter a valid postal code.
Dental Assisting FAQs
Are There Prerequisites For Program Admission?
To begin most dental assistant programs, you must have completed high school and have some familiarity with biology and chemistry. Some programs will also require a current Level C CPR certification.
What Material will Schooling Cover?
Once you have been admitted to a program, you will take general courses in nutrition, professional ethics, anatomy, physiology, biology, and chemistry. These courses will be supported by core courses such as orofacial anatomy, general and oral microbiology, dental radiology, dental health education, and clinical practice.
You should be well prepared to take the certification and license examinations when you complete your program.
What are the Certification and Licensing Requirements?
Beyond a Level C CPR certification, there are specific certifications that an employer may require a dental assistant to maintain.
The Dental Assistant Regulatory Authorities (DARA) manage the certification and licensing of dental assistants, and each province has a DARA office. You will be required to sit for the national examination through the National Dental Assisting Examining Board (NDAEB). You may also be required to complete DARA's Clinical Practice Evaluation.
There are a number of licenses held by dental assistants that demonstrate proficiency in specific skill areas. The areas of specialization you choose will determine which licenses you will need. These include:
Certified Dental Assistant
Certified Orthodontic Assistant
Certified Preventive Functions Dental Assistant
Certified Restorative Functions Assistant
Licenses for each of the above titles can provide the opportunity for entrance to a specialized field of dentistry.
What Does Employment in This Field Currently Look Like?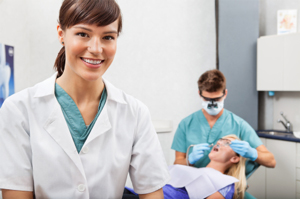 According to Job Bank:
The placement rate for dental assistants is strong, and the unemployment rate within this sector in Canada is quite low.
Approximately 77% of dental assistants are employed full-time.
The average annual income for dental assistants is $44,720 as of October 2018.
The field is dominated by women, with 98% of dental assistant positions in Canada filled by women.
What are the Usual Responsibilities of the Job?
The duties required of a dental assistant include, but are not limited to:
Gathering and registering patient information
Organizing dental instruments and equipment
Facilitating patient care
Preparing dental materials
Other duties may include:
Providing emergency care to patients
Diagnosing oral problems
Preparing a plan of treatment
Fitting fixed or removable dental appliances
Managing patient records
Managing patient care during dental procedures
Find the Right Dental Assistant School for You
In order to work toward a position as a professional in this promising field, you must look for a school that can prepare you to become licensed and certified. Dental assisting programs strive to do this by teaching the essentials of the field, such as how to prepare patients for procedures and maintain their records. You could even learn to take on more advanced responsibilities like performing and processing x-rays.
Training to become a dental assistant can lead you to good long-term job prospects, steady employment, and a good income. The first step on this career path is choosing the school that will best suit your needs as a student and best prepare you for the specialization you wish to take on.
Find a School Near You
Please enter a valid postal code.