Paralegal Courses of Study Near You | Plus, Legal Training FAQs
By Publisher
| Last Updated February 21, 2023
Paralegal courses of study are offered at respected colleges and trade schools across Canada and can provide a straightforward path to an essential law career.
Enrolling in a paralegal program can provide structured training that can lead to work in an exciting and good-paying legal career. Plus, becoming a paralegal doesn't require years in law school but can still lead to a job doing plenty of essential legal work both in and out of the courtroom. Aspiring legal professionals like yourself can develop abilities prized by more employers than you might realize.
Find a Paralegal School Near You
Please enter a valid postal code.
What Is a Paralegal? And Why Are Paralegal Jobs So Important?
Here's the short paralegal definition: A professional who assists lawyers and works within the judicial system with significant legal knowledge but is not fully trained as an attorney.
And the more detailed paralegal meaning: Hiring a lawyer can be very expensive. Many people can't afford to pay for the legal services they need. As a result, many lawyers work hard to make their services as cost-effective as possible for their clients. One of the ways they do that is by using knowledgeable paralegals to help with a lot of the research and procedural work they would otherwise have to do themselves. This saves lawyers time, which saves clients money.
And today's definition of a paralegal increasingly includes a wider variety of tasks. Beyond preparing legal documents, organizing files, or conducting research, many also represent clients in lower court proceedings or administrative hearings. They can even handle several basic legal services for the Public without getting any lawyers involved.
How Long Does It Take to Become a Paralegal?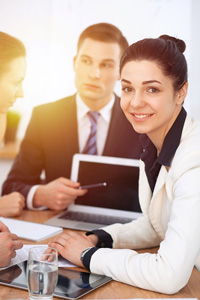 It's possible to get a relevant diploma in a year or less. That's how many successful paralegals have gotten started. Some degree programs take longer (two to four years), so it depends on how quickly you'd like to begin generating an income and accumulating experience. In only 10 to 12 months, you could have enough of an education to launch your career.
Many paralegal programs offered at Canadian trade schools and vocational colleges are within the range of 1-1.5 years long. However, many of these programs also include a practical training component, whether through an internship, externship, or other placement. While this can add to the total time it takes to become a paralegal, starting the job hunt with real-life experience is well worth it. The law field tends to favour applicants with some previous experience.
And keep in mind that most provinces and territories do not regulate this occupation. Only in Ontario are you required to earn a license to practice. So, let's look at how to become a paralegal in Ontario: you need to graduate from a program accredited by the Law Society of Upper Canada and pass a licensing exam.
How Paralegal Online Course and Program Options Can Help
Online paralegal course and program options are becoming more prevalent, particularly since the post-COVID world has had to adapt to a more remote way of working, learning, communicating, shopping, socializing, and just living. As a result, many schools offer paralegal programs that are either fully or partially online (hybrid).
Completing some or all of your paralegal courses remotely usually comes with more time flexibility, not only in your daily schedule but also in how long it takes to complete the entire program. As a result, you may be able to graduate sooner than most, or you might be able to take longer than most if needed.
Plus, some of the online paralegal programs Ontario offers can set you up with what you need to pursue the additional licensing to practice independently.
What Does a Paralegal Do?
Unless they are licensed in Ontario, paralegals always work under the general supervision of lawyers. And the work they perform can be fascinating. For example, many paralegals get to:
Interview clients and witnesses and obtain formal affidavits
Assist in the investigation and gathering of facts for different cases
Research various laws while helping lawyers get ready for trial
Prepare legal correspondence and documents for clients
Keep case files and electronic records up-to-date
Writing reports to help lawyers prepare for trials
Helping lawyers during trials
Drafting correspondence and legal documents such as contracts and mortgage papers
Ongoing correspondence with clients
Plus, paralegals can specialize in specific areas of law. And they can also now find employment in more settings than ever before. Beyond law offices, paralegal jobs exist in banks and financial services firms, legal counselling clinics, corporate legal departments, government offices, research companies, and even some marketing and career recruitment agencies.
Find a Paralegal School
Please enter a valid postal code.
What Can Independent Paralegals Do?
A licensed Ontario paralegal can also take on an additional range of duties, such as representing clients in small claims court, offering certain kinds of legal advice, and initiating some types of legal actions—without being supervised by a lawyer.
By practicing independently, a licensed professional in this field can also advise clients and take legal action on matters related to issues such as:
Traffic tickets
Immigration
Name changes
Landlord and tenant disputes
Real estate transactions
Independent paralegal vs lawyer: what are the differences?
The Law Society of Ontario outlines the following differences between lawyers and paralegals:
Lawyers
Education and qualifications:

Earning a Bachelor of Laws (LL.B.) degree, a Juris Doctor (J.D.) degree, or an equivalent credential
Successful completion of the multi-step Law Society's Lawyer Licensing Process
Scope of practice - once licensed, lawyers can perform a full range of legal services, including:

Family issues, including divorce and child custody
Criminal cases in all levels of court
Civil litigation in all levels of court
Estates, powers of attorney, and wills
Real estate transactions
Administrative law, which includes appearing before tribunals
Independent Paralegals
Education and qualifications: (how to become a paralegal in Ontario)

Earning a diploma, certificate, or degree in a legal services program with Law Society accreditation
Completing the multi-step Law Society's Paralegal Licensing Process (including exams)
Scope of practice - once licensed, paralegals can provide certain specific legal services, including representing clients in:

Small claims court
Provincial Offences Court (including traffic tickets)
Tribunals
Ontario Court of Justice cases involving certain criminal offences like theft under $5000 and assault
Performing certain Notary Public services
What Is a Typical Paralegal Salary in Canada?
It's possible to make an excellent living as a paralegal in Canada. So, according to most recent government data, how much does a paralegal make? The median wage is $28.85 per hour, which equals a yearly, full-time salary of about $60,000. But paralegal salary expectations increase along with experience, so many more seasoned professionals earn much more than that. Entry-level or low-end pay is around $18.00/hr, and higher-paid paralegals can make about $46.70/hr or more.
How much do paralegals make in Ontario? Pay can also depend on where you live and work. For example, a licensed paralegal in Ontario can make up to $49.00/hr or more on the high end of earnings, which equals an annual salary of nearly $100,000!
What Are the Benefits of Becoming a Paralegal?
Providing paralegal services means having the potential to experience many satisfying rewards. Professionals in this occupation often get to help clients through challenging circumstances, but many of them also feel gratified knowing that they enjoy career benefits like:
A Good, Reliable Income
This field is one of the best professions to enter if you want a chance to earn a comfortable income without a long educational commitment. As mentioned previously, some experienced, licensed paralegals can make close to three figures annually.
Widespread Demand for Their Services
People are increasingly seeking out low-cost legal assistance. As a result, many firms have found that utilizing paralegals is a great way to make their operations more efficient and affordable for a broader range of clients. In addition, several other types of employers make use of these professionals. So, aside from law practices, possible job settings include:
Corporate legal departments
Record and title search companies
Government agencies
Federal and provincial courts
Financial institutions
The Chance to Specialize
As a paralegal progresses through their career, opportunities can present themselves to focus on a particularly interesting or enjoyable area of law. Examples include niches like family, corporate, intellectual property, and personal injury law.
Respect and Advancement Potential
Paralegals are valued and appreciated by many of their professional colleagues. That's why many of them can grow into leadership roles. For some, that means working in management or as part of a firm's executive team. For others, it means striking out as the owners of their own legal services businesses.
Work That Keeps You Interested and Engaged
This career can provide a lot of chances to demonstrate abilities related to deep thinking and problem-solving. And since laws change and different trends in the legal field often emerge, a paralegal can spend a significant amount of time learning new things. It makes for a work experience that tends to be mentally stimulating and rewarding.
Find a School Near You
Please enter a valid postal code.