By Publisher

| Last Updated March 10, 2022
Establish a respected legal career without spending years in law school.
Paralegal training schools in Canada provide valuable educational opportunities to people who want to work in an interesting and good-paying career that doesn't require much time in college. They enable aspiring legal professionals to develop abilities that are prized by more types of employers than you might realize.
Why Paralegals Are Important to the Canadian Justice System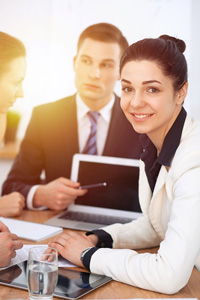 Hiring a lawyer can be very expensive. Many people simply can't afford to pay for the legal services they need. As a result, a lot of lawyers work hard to make their services as cost-effective as possible for their clients. One of the ways they do that is by using knowledgeable paralegals to help with a lot of the research and procedural work that they would otherwise have to do themselves. This saves lawyers time, which saves clients money.
Plus, with a rise in the number of Canadian lawyers, a lot of people in this field are anticipating a shortage of paralegals in the coming years. It's easy to see why when you look at recent trends and statistics:
Since the turn of this century, the number of Canadian lawyers has increased at a rate that's five times faster than the growth of the general population.*
In 2014, the number of practicing lawyers in Canada totalled over 99,000.** That's about one active lawyer for every 397 Canadians.***
It's been estimated that, since 1990, the number of paralegal jobs in the country has more than doubled.****
What Being a Paralegal Involves
Unless they are licensed in Ontario, paralegals always work under the general supervision of lawyers. And the work they perform can be very fascinating. For example, many paralegals get to:
Interview clients and witnesses and obtain formal affidavits
Assist in the investigation and gathering of facts for different cases
Research various laws while helping lawyers get ready for trial
Prepare legal correspondence and documents for clients
Keep case files and electronic records up-to-date
Plus, paralegals can specialize in specific areas of law. And they can also now find employment in more types of settings than ever before. Beyond law offices, opportunities also exist in banks and financial services firms, legal counselling clinics, corporate legal departments, government offices, research companies, and even some marketing and career recruitment agencies.
In Ontario, a licensed paralegal can also take on an additional range of duties such as representing clients in small claims court, offering certain kinds of legal advice, and initiating some types of legal actions—without being supervised by a lawyer.
What Canadian Paralegals Get Paid
It's possible to make a very good living as a paralegal in Canada. In fact, the median wage for paralegals is $28.02 per hour, which equals a yearly, full-time salary of about $58,000. But as they gain experience, many paralegals earn much more than that.
The Credentials You Need
In most provinces, employers tend to look for people who've received their vocational education through accredited paralegal programs. That kind of training can take anywhere from less than a year to up to four years to complete. However, most programs are on the shorter side of that spectrum and are designed to provide very focused training in only a matter of months.
Plus, unless you plan to work in Ontario, you won't necessarily need any other credentials. But if you do want to become licensed in Canada's most populous province, you'll need to qualify for, and pass, an exam from the Law Society of Ontario.