Paramedic & EMT Training Schools & Colleges
By Publisher
| Last Updated March 10, 2022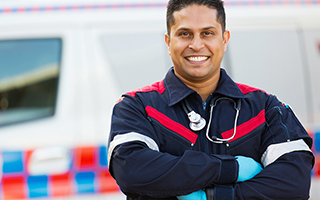 Kickstart your future as a true everyday hero. With paramedic training, you can start contributing to your community in one of the most significant ways imaginable. And you can begin enjoying the self-assurance that comes from having a stable and valued career.
After all, you have the drive. Helping others through challenging situations is practically in your DNA. You just need the education. Then your real potential can reveal itself as you earn a respected job title like emergency medical technician (EMT), ambulance attendant, or paramedic.
The day is probably ahead—and closer than you think—when you can say you're living life on your own terms while assisting other people through their hardest moments. Can you visualize it? Being so skilled and quick to react that you save lives or bring them into the world in times of crisis? Perhaps even in the same day?
Find a Paramedic & EMT School Near You
Please enter a valid postal code.
Paramedic/EMT Training and Job FAQ
What Are the Most Common Rewards of Being a Paramedic?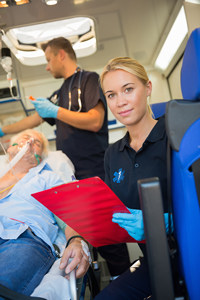 A lot of the best parts can't easily be put into words. That's because EMTs and paramedics have many experiences that heighten their appreciation for life and provide unique perspectives on it. But a few of the things they often value most are:
Tremendous feelings of achievement—When you get to be a hero to others who are experiencing life-or-death emergencies, your sense of purpose and connection to your community can be incredibly powerful.
Genuine variety and engagement—One day is never the same as the next. And each new challenge allows you to see the world in ways that most others never will. Plus, with advances in pre-hospital care occurring all the time, you get lots of opportunities to keep your mind sharp by learning something new.
A sense of freedom—Working as an emergency medical attendant means being free of the typical 9-to-5 routine. Aside from training, you usually have nobody looking over you shoulder when you're out in the field. And work schedules often allow you to get many days off in a row on a regular basis.
Good wage potential—According to the Government of Canada's Job Bank, the median hourly wage for paramedics was $33.00 during the period from 2017 to 2018. And the top 10 percent of earners made $43.88 or more. With growing cities and a population that's getting older and more prone to medical crises, the demand for emergency services could also grow. And that could mean higher EMT incomes.
Diverse employment options—Ambulance services are just one type of employer you can approach. Other possibilities include fire departments, hospitals, public agencies, and companies in the industrial and mining sectors.
What Exactly Does the Job Entail?
Paramedics go to the scenes of medical emergencies to provide essential first aid to people suffering from traumatic injuries, poisoning, breathing difficulties, heart problems, or other critical conditions. If necessary, they transport those victims to medical facilities for more advanced treatment.
As part of that process, their work can involve doing things like:
Evaluating each situation and determining the severity of injuries and illnesses
Performing basic emergency care procedures such as supplying oxygen, conducting CPR, bandaging wounds, splinting bone fractures, and stabilizing necks and spines
Administering medications
Starting intravenous (IV) therapies
Hooking patients up to special circulation or ventilation equipment
Driving ambulances or assisting in the transport of victims by air or water
Documenting each case
Cleaning and resupplying ambulances
Do I Have to Obtain Anything Besides My Education?
Yes, but not in all areas of Canada. Paramedics are regulated by the government everywhere except the Northwest Territories, Yukon, and Nunavut.
In the provinces, you will need to follow some type of regulation. In most cases, that means you'll have to complete a paramedic program as well as a period of supervised training. Then, in many provinces, you will have to apply for licensure or certification.
Of course, if you want to drive an ambulance, you will need an appropriate license for that also.
How Long Will My Paramedic Training Take?
Many programs last only about 16 to 24 months.
Find a School Near You
Please enter a valid postal code.