Canadian Catering Schools & Training Programs
By Publisher
| Last Updated March 10, 2022
Canadian catering schools can help give you the training you need to launch a career in a growing and diverse culinary field.
Just imagine becoming an entrepreneur and starting your own catering company. That's what you can work toward by taking comprehensive courses on the business side of catering, including classes in financial management, business plan writing, and marketing.
Of course, a successful caterer must also be an accomplished culinary professional. That's why catering programs often include courses in menu planning, pastry arts and baking, food safety, and plenty more. With an education from a Canadian catering school, you could soon be part of an industry projected to experience continued growth.
Find a Catering School Near You
Please enter a valid postal code.
4 Frequently Asked Questions About Becoming a Caterer in Canada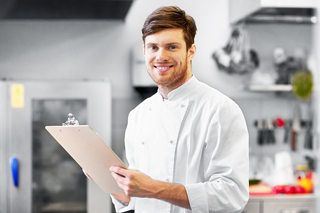 Food is an integral part of many social gatherings. For example, have you ever been to a wedding where the culinary offerings were a big highlight? Or, on the other end of the spectrum, have you attended a birthday party or corporate event with food that spoiled the occasion? If so, you know that food service can make or break an event.
Catering may look easy for guests reaching for yummy appetizers or heading to a buffet table. But a lot of work takes place behind the scenes for food service to happen smoothly. And that's precisely what caterers do: They ensure that enticing food is prepared safely and served promptly at special events.
1. What Kind of Career Does a Catering Program Prepare You For?
Catering programs teach students how to make, deliver, and serve impressive culinary dishes, usually for occasions where the expectations for quality food are high.
Although many catering programs teach cooking skills, caterers differ from restaurant cooks in several ways. For example, a restaurant cook is typically responsible for preparing food according to each customer's order. They work almost exclusively within a restaurant kitchen. In contrast, the work of a caterer is more varied. Some of the possible responsibilities of a caterer are:
Advertising to find clients
Negotiating with clients regarding the costs and services offered
Creating menus for events
Making sure events have the proper licences
Buying the food
Preparing the food
Serving food or hiring staff to serve it
Providing the necessary plates, serving dishes, and cutlery
Providing, or arranging to rent, things like décor, tablecloths, and flowers
Delivering food safely if it's prepared offsite
Keeping everything clean during an event by removing empty glasses and taking away garbage
Cleaning up after an event
Although their roles have many similarities, caterers are also different from private chefs. Private chefs prepare meals for a family or individual on a regular or semi-regular basis. Typically, they do the cooking in a client's home, and their job duties may also include meal planning and shopping.
After completing a catering program, you can specialize in specific areas of catering. For example, you can focus on weddings or business meetings. The two main types of catering are onsite catering and offsite catering.
Offsite catering: The caterers prepare food away from the main event, then transport it before serving. This takes a lot of planning and coordination. An offsite caterer needs an approved cooking facility, a way to deliver the food safely, and strong organizational skills. Cooking and delivery must be carefully scheduled to ensure everything is just the right temperature at the right time. Offsite caterers also have to be adaptable, since they could be working in a park one day and a ballroom the next. And no matter where they are, the food service must appear to be seamless. That means caterers must have absolutely everything they will need at an event.
Onsite catering: The caterers prepare food at the same location as the event. Hotels sometimes have onsite caterers who are either employed by the hotel or work as independent contractors. A big advantage of this type of catering is that you don't have to worry about transporting food. But one disadvantage is that you are restricted to the onsite kitchen facilities and equipment, and you may not enjoy as much variety in your work as offsite caterers.
2. How Do I Succeed as a Caterer?
To become a successful caterer, you need a solid food preparation and service background. But you don't necessarily need a specific education to be a caterer. However, this can be a competitive business, so obtaining formal training can help you move ahead. Having recognized credentials also assures potential clients that you can handle the demands of working at their events. Most importantly, a focused program can help you learn the essential skills you need to be a caterer: the ability to prepare quality food and handle all cooking and serving tasks quickly and safely.
Find a Catering School Please enter a valid postal code.

Getting some entry-level experience in the hospitality industry before starting your education can help you understand the unique demands of catering. But keep in mind that the rewards and challenges can be different from those of working in a restaurant. So if you're considering a career as a caterer, try volunteering or working at a large social event in order to get a better feel for it. Even hosting big dinner parties can help you learn about people's expectations when it comes to special meals. (The same strategies apply to menu creation once you're established as a caterer: Testing out a new dish on friends or family is a great way to get feedback.)
3. How Can I Start My Own Catering Business?
Starting a catering company is a great way to combine a love for cooking with the freedom of owning a business. It's often a less costly way to start a food-service business than opening a restaurant. And owning a catering company allows you to have control over what you do. But entrepreneurship can be a lot of work and always carries some risk. As an owner, you may find yourself spending more time on business tasks than you do on preparing food.
To start a small catering business, a good first step is completing a comprehensive catering program. Although the next steps will depend a little on what kind of catering you want to do, these actions can help you get started:
Do a bit of soul searching. Not everyone is cut out to be an entrepreneur and start a business. Some people thrive on the challenge, freedom, and adrenalin that comes with starting a company. Others find out that they prefer to work for someone else. Ask yourself whether you're ready to be your own boss. Are you good at making decisions and acting on them? Are you comfortable investing some time and money into a business before you make a profit? Also, caterers can work lots of weekends. Will that schedule work with your lifestyle?
Think about what type of catering business you want. You may be more successful if you're able to fill a niche. What type of events do you want to cater? Which foods do you want to serve? In a smaller market, you can be more versatile, but in a competitive larger city, consider doing a market study of what's already offered in order to narrow your focus. And, of course, consider your own culinary interests. If you're a pastry fan, you could specialize in dessert. If you have a strong business background, you might want to focus on corporate events. Once you have an idea of what kind of catering you want to do, create a menu of food options to show potential clients. Don't forget that today's caterers often have to accommodate many dietary needs: Your menus should include choices for vegetarians, vegans, and people with gluten intolerances if possible.
Research legal issues. Before you get too deep into buying equipment and preparing a marketing plan, make sure your legal paperwork is in order.
Food service is highly regulated in Canada, and some of the requirements can be complex. Canadian food-service businesses (including catering companies) are usually inspected and licensed by provincial governments, municipalities, or regional health authorities.
The federal government has regulations about food-related activities that require a licence when starting a catering or other food-service business. You might need a licence for catering in your area, and you may need to meet certain requirements to serve alcohol at special functions. (A catering licence is a permit to serve food—and often alcohol—to groups.) Remember that business licensing is specific to your location. For example, a licence in Ontario does not apply in British Columbia. The government's permit search tool can help you find out exactly what you need in your location.
Even careful and well-run catering companies can be sued. Liability insurance helps protect caterers in case of problems such as a client having an allergic reaction or an employee experiencing an injury on the job. In order to qualify for coverage, many insurance companies require that caterers have proper food-handling certificates and liquor permits. Talk to an insurance agent in order to learn more about your insurance needs.
Plan the logistics of preparing the food. First things first: Where are you going to do the cooking? You start a catering business from home by first checking the regulations in your area regarding home food preparation. In many provinces, you can't prepare food for catering in a home kitchen. However, in some locations, you can run a catering business with a separate kitchen in your home. If catering businesses can't operate from homes in the area where you live, you'll likely have to rent commercial kitchen space.
In addition, make sure you have the equipment that you need to cook the dishes on your menu. And remember that one key component of offsite catering is food storage. Because you may often be cooking in a different location than the event venue, you need a lot of space and equipment in order to hold food at the desired temperature safely.
You may also have to buy serving and décor items such as tablecloths or vases. But a lot of this kind of equipment can be rented from a party-supply company if you're not ready to purchase your own yet.
Create a budget and a business plan. Plan carefully to make sure you can afford the cost of launching and running a business before you eventually turn a profit. Investing in catering equipment can be expensive. Your costs will depend a lot on the type of catering you do.
When determining how much to charge for your services, be sure to factor in all of your expenses, not just the food costs. Do some research on your competition so that you can set realistic prices for your services. Pricing is often a big factor when potential clients are choosing caterers.
If you want to apply for a business loan to help you get started, you'll need to create a business plan. A business plan is also essential for ensuring that you have all the bases covered before your launch. And it can help you visualize the future of your business and figure out how much you want it to grow.
Start planning your marketing strategy. Prize-worthy cuisine isn't enough to make a catering business successful. You also need to get the word out. Clients tend to be loyal to their favourite caterers, so it can be hard market to break into this market. That's a big reason why a good marketing plan is essential.
A potential customer can walk into a restaurant and get a sense of the business right away. It takes more effort to tell clients what you're all about if you're a caterer. You market a catering company by taking care of basics like having a website with lots of professional photos, writing a regular blog, and frequently posting on social media in order to give people a sense of your company. Fortunately, social media channels like Instagram and Pinterest are well-suited to catering businesses. Everyone likes to see photos of beautiful food!
Provide tastings at charity events and fairs to build your reputation. And target your desired market. For example, run a food booth at a bridal fair if you want to specialize in wedding catering. A lot of hospitality business relies on word of mouth, so the more exposure you get, the better. And be sure to gather testimonials and reviews as you build your business. You can incorporate these into your marketing materials.
4. How Much Money Do Caterers Earn?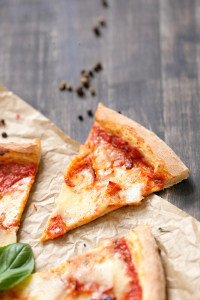 If you run your own business, the amount of money you can make as a caterer depends on how many events you cater and how much you charge for each one. Catering companies are paid on a per-event basis. And the amount of money a company makes per event varies widely depending on the type of event and the number of people attending.
As an example, the average amount a caterer charges for one wedding guest is $70. But caterers have to carefully calculate the cost of food and labour before they determine their prices and their budget. As a result, that number can vary a lot.
In general, catering companies can make an average profit of about 10 to 12 percent at events. (In contrast, the same source says that restaurants make an average profit of about four to seven percent.) In 2017, annual revenues for catering companies in Canada ranged from about $30,000 to $5 million.
Job Bank data shows that a catering server makes a median hourly wage of about $15.00 per hour.
Find a School Near You
Please enter a valid postal code.