Esthetician School Guide
Esthetics and Skin Care Training
By Publisher
| Last Updated March 10, 2022
In less time than you might expect, you can begin using prized skills related to skin care and spa treatments as you help people look and feel their very best. It's a satisfying path that often generates many empowering benefits.
That's why esthetics school can be such a worthwhile choice. It can reveal some of the potential you never knew you had. With just a brief amount of esthetician training—frequently under a year—your vocational possibilities could expand beyond what you've ever envisioned. After all, Canadians are increasingly seeking out professionals to help rejuvenate their appearance or well-being as a way to live more confident, healthy, and stress-free lives.
Find an Esthetics School Near You
Please enter a valid postal code.
5 Excellent Reasons to Become an Esthetics Professional in Canada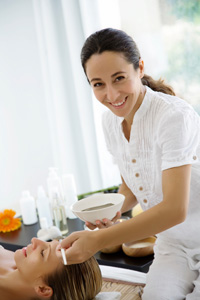 Having clear, soft, smooth, and radiant skin can boost our confidence and overall health. That's what makes estheticians so important to so many Canadians. They provide expert facials and other body and cosmetic treatments that can enhance a person's appearance and self-esteem.
Esthetics and other spa-related services are so popular in Canada that they are part of an industry that generates more than a billion dollars a year. A Global Wellness Institute (GWI) report says that Canadian spa facilities earned $2.05 billion US in 2017 and employed more than 47,700 people.
GWI predicts that worldwide employment in the spa industry will keep rising. GWI also says that Canada was already home to more than 4,000 spas in 2017.
Here are five other great reasons to pursue an esthetician career:
1. The Services You Can Learn to Provide Are Extensive and Fascinating
When it comes to the potential for interesting variety, the field of esthetics has a lot to offer. Maybe even more than you think. That's because many estheticians complement their skin care expertise with skills in related areas. For example, look at some of the services that people in this vocation often learn about:
Giving relaxing and revitalizing facials
Providing various body treatments such as exfoliation and full-body wraps
Artfully applying make-up and offering advice about cosmetics
Giving gentle relaxation massages
Performing aromatherapy
Consulting about nutrition and its impact on skin health
Removing unwanted hair using waxing, electrotherapy, laser, or other methods
Providing basic manicures and pedicures
2. There Are Many Possible Work Settings and Ways to Progress in Your Career
In terms of where they can work, estheticians frequently enjoy many options. The spa industry tends to be the largest employer, but it's made up of diverse environments. For instance, beyond the typical day spa, you can also find opportunities at many hotels, destination resorts, cruise lines, beauty salons, cosmetic or skin care boutiques, and department stores.

Find an Esthetics School Please enter a valid postal code.
Plus, some estheticians learn specialized skills that open up additional possibilities. One example is the field of medical aesthetics. Training for it is usually relatively quick. It can allow you to help doctors provide advanced cosmetic treatments such as microdermabrasion, chemical peels, and light-based skin therapy. Increasing numbers of Canadian physicians are adding medical spa and skin care services. So they need qualified estheticians to help them operate those areas of their practices.
Another example of a fulfilling specialty area is oncology esthetics. As an esthetician in this part of the field, you can help ease skin-related side effects of cancer patients undergoing treatments like radiation or chemotherapy. More and more cancer clinics and agencies in Canada are starting to offer such services to provide better overall experiences for the patients they serve.
3. Esthetics Is a Strong Industry with a History of Impressive Growth
Many Canadians love to be pampered. So they are happy to spend money on services that make them feel reinvigorated, healthier, or more attractive. It's why estheticians are often in real demand. And the growth of the overall spa industry shows just how big that demand can be. For instance, Destination Canada notes that between 1996 and 2006, the number of spa locations in Canada grew by nearly 330 percent!
4. You Can Explore Different and Exciting Ways to Make Money
The median hourly wage for estheticians in Canada is about $15.25, with some earning significantly more. Estheticians also earn tips, and many employers offer the chance to earn commissions on the sale of beauty products or the services provided.
Plus, your income potential can increase significantly by becoming an entrepreneur in the field. Many estheticians have had success with developing their own skin care product lines, starting their own spas, or contracting out their services on an independent basis with various spas and medical aesthetics clinics.
5. Flexible Schedules Are Often the Norm
Many spas and other employers offer the chance to choose between working full- or part-time. And if you rent your own space, you can frequently decide on a schedule that matches your lifestyle and your clients' needs.