Physiotherapist Assistant Schools & Occupational Therapy Assistant Training
By Publisher
| Last Updated March 10, 2022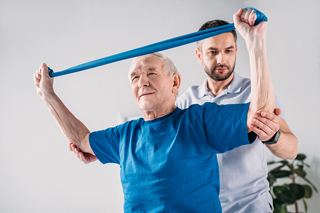 Discover how physiotherapist assistant schools or occupational therapy assistant training can prepare you for a satisfying and important career in a growing area of health care.
Now is a great time to start learning how to assist physical and occupational therapists with the vital work of improving people's lives. Every day, practitioners in these fields require the help of skilled professionals who know how to carry out the treatments they prescribe. You can become one of those professionals.
What could be more rewarding than helping other people recover from a physical setback or achieve greater functional independence? With physiotherapist assistant (PTA) training, you can learn what goes into treating people who are dealing with a loss of mobility, strength, functionality, and/or endurance due to physical illness or injury. And with occupational therapy assistant (OTA) training, you'll have the chance to learn how to help people with physical, cognitive, or developmental disabilities improve their ability to carry out basic activities of daily living.
Find a Physio/Occupational Therapy Assistant School Near You
Please enter a valid postal code.
Frequently Asked Questions About Physiotherapist and Occupational Therapy Assisting
What's the difference between physiotherapy and occupational therapy?
Both fields involve helping patients improve their quality of life through hands-on treatments that increase their functionality.
Physiotherapy (also called physical therapy) is primarily focused on treating specific injuries or other physical impairments that cause pain and/or affect a person's ability to move. Physiotherapy aims to restore or increase a person's range of movement.
Occupational therapy focuses on a person's overall functionality, which may be impacted by physical, cognitive, developmental, or emotional problems or disabilities. Occupational therapy aims to expand a person's ability to perform everyday tasks independently or to be an active and productive community member—despite their limitations.
Physical and occupational therapy professionals often work together to help patients achieve the best possible outcomes.
What is the role of an assistant in these fields?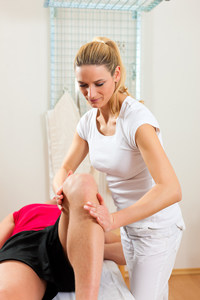 Physiotherapist and occupational therapy assistants work directly with patients, carrying out hands-on activities that are part of customized therapeutic treatment plans. Those plans are developed and authorized by registered physiotherapists and occupational therapists who supervise their work. Assistants in these fields also teach patients how to perform certain exercises, use assistive devices, and prevent setbacks. In addition, they monitor patients before, during, and after therapeutic sessions, record their observations, and report their findings to the therapists they work for.
How do I become a physiotherapist assistant or occupational therapy assistant?
Employers typically prefer to hire people who've earned post-secondary credentials in these fields. So, the best thing you can do is complete a physiotherapist assistant or occupational therapy assistant program at a college, university, or vocational school. (Some programs provide training for both types of positions.) Your training will likely include classroom instruction, hands-on learning, and clinical experience. It's also a good idea to earn certification in first aid and CPR.
Are a physical therapy assistant and a physiotherapist assistant the same thing?
Yes. They are different ways of describing the same job. Depending on provincial licensing requirements, both are allowed to help develop treatments and record patient progress under the guidance of a physiotherapist.
How long does training usually take?
Generally, training takes up to two years. However, some schools can prepare you for these careers in less than a year. It's best to consult with the schools you're interested in to determine how they schedule their programs.
What will I learn in school?
Physiotherapy involves the treatment of patients who are dealing with chronic pain or restricted mobility due to injuries, disabilities, or disease. Your training should include hands-on learning in subjects such as exercise therapy, anatomy, pathology, kinesiology, massage therapy, and much more. You'll learn to work closely with licensed physiotherapists in the development and implementation of patient treatments.
As part of a physiotherapist assistant program, you can learn to perform ambulation, traction, and electrical stimulation treatments, as well as massage techniques and heat/cold application therapy. You may also learn how to carry out balance, coordination, and mobility-training exercises.
In an occupational therapy assistant program, you may learn a lot of the same things. But the training will focus more on how to help people with a wider range of disabilities perform basic life skills and gain more functional independence, sometimes by using assistive equipment.
Most programs will also teach you how to track and measure a patient's progress so that the effectiveness of particular treatment plans can be accurately assessed.
Externships and Real Experience
Many programs will also include an externship as part of their curriculum. Most externships take place within physiotherapy or occupational therapy offices, rehabilitation centers, hospitals, health clinics, or home health agencies. Throughout your externship, you can gain experience working directly with patients, under the supervision of a professional physiotherapist or occupational therapist.
Externships are also extremely valuable because they give you the opportunity to network and make contacts within the field. That can give you an advantage when you begin job hunting.
What are the typical job duties?
As a physical therapy or occupational therapy assistant, you could help carry out courses of treatment for a wide variety of patients. Depending on the particular focus of your employer, the treatments you perform may involve things like massage, stretching, or therapeutic exercise. You may also provide balance, mobility, coordination, and motor-skills training or teach certain patients how to use assistive devices. In addition, you may be responsible for tracking the progress of patients. Some PTAs and OTAs also help with administrative tasks such as scheduling appointments or handling phone calls.
What career options will I have after graduating from school?
You could work in a variety of settings, including health care centers, hospitals, home health services, and outpatient care centers.
How much can I earn?
According to the Government of Canada's Job Bank, the median hourly wage for physiotherapist assistants and occupational therapy assistants in Canada is $21.54, which translates to $44,803 per year for full-time work. The highest earners in these fields make over $29.25 per hour, which is more than $60,840 per year.
Find a School Near You
Please enter a valid postal code.