Pharmacy Assistant and Pharmacy Technician Schools
By Publisher
| Last Updated March 10, 2022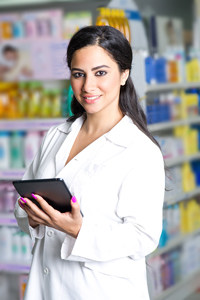 Start solidifying your future by playing a role in the health of your community.
Pharmacy technician schools provide reliable ways to begin learning skills that are valued in pharmacies all over Canada. In under one year, you could have the abilities necessary to enter a field known for contributing to the comfort and vitality of others.
Imagine the possible benefits: Experience a genuine feeling of accomplishment each day. Connect with people who live near you. Enjoy the interesting work and important responsibility of handling a huge variety of medications. That's what getting your pharmacy technician or pharmacy assistant training can do for you. It can lead to job opportunities with all kinds of built-in rewards.
How Pharmacy Technicians Differ from Pharmacy Assistants
These two job titles used to be interchangeable. But, increasingly, that is no longer the case in Canada. In fact, as part of a nationwide effort by professional pharmacy organizations, many provinces now regulate who can be called a pharmacy technician.
Here's why: A lot of pharmacists are seeking to change how pharmacies operate behind the counter. They want more flexibility and time to pursue expanded roles in clinical care. As a result, they want to work with technicians who have the independent authority to carry out some of the duties that only they were previously allowed to perform.
So even if your province or territory doesn't currently have such regulations, it could very soon. That means it's important to know the potential differences between technicians and assistants. Here are the most important ones:
Find a Pharmacy School Near You
Please enter a valid postal code.
Licensing Requirements
In many areas of the country, you can only use the title of "pharmacy technician" if you have successfully completed the licensing or certification process of the pharmacy board or college of pharmacists in your province.
That process usually involves multiple steps. For example, in BC, Alberta, and Ontario, you must fulfill requirements such as:
Graduating from a formal pharmacy technician program
Completing a period of supervised practical training in a real pharmacy
Passing exams related to pharmacy law
Passing a final qualifying exam from the Pharmacy Examining Board of Canada (PEBC)
Pharmacy assistants are not regulated, so they are not required to earn any certification.
Education
To become a pharmacy technician in a regulated province, the program you graduate from must be accredited by the Canadian Council for Accreditation of Pharmacy Programs (CCAP).
Also, after you gain licensure, you'll likely need to undergo a certain amount of continuing education each year.
In contrast, training to become a pharmacy assistant can happen at any school that offers a relevant course of study. You might even have the option of learning online. And any additional education is completely voluntary unless mandated by your employer.
Responsibilities
Pharmacy technicians and assistants typically share many of the same duties, such as helping pharmacists by:
Keeping prescription records accurate and up to date
Tracking the inventory of medications and other items
Compounding, measuring out, packaging, and labelling medicinal drugs
The main difference is that a regulated pharmacy technician has the extra authority and independence to carry out tasks like:
Checking to make sure a drug preparation was done accurately
Conducting the final check on prescriptions
With that additional responsibility comes the requirement to carry liability insurance. That's because, like pharmacists, regulated pharmacy technicians can be held legally accountable for their work.
Pharmacy Technician Wages
According to the Government of Canada Job Bank, the median wage for pharmacy technicians in Canada is $19.00 per hour. And a senior certified pharmacy technician typically makes about $30.00 per hour.
Of course, it's possible to make even more. Retail and community pharmacies often employ pharmacy assistants at competitive wages. But many of the best-paying jobs are found at the pharmacies of hospitals and long-term care facilities. And you can increase your chances of landing one of those higher-paying jobs by becoming a licensed pharmacy technician.
Find a School Near You
Please enter a valid postal code.