Locksmith Training Schools & Colleges
By Publisher
| Last Updated March 10, 2022
Locksmith training can help you gain a competitive edge in a trade that offers good pay, lots of variety, and the chance to become your own boss. It's possible to complete a program in just a few months and be prepared to install and maintain locks on anything from condos and cars to hospitals and hotels.
Find a Locksmith School Near You
Please enter a valid postal code.
---
---
Education & Training
By completing formal training in locksmithing, you can gain valuable skills that can help you stand out in the job market.
Length of Training
Locksmith training programs at colleges and vocational schools are generally four to 12 months long. Apprenticeship programs can take up to 48 months.**
Most Common Length of School**
(range in months)
Small engine repair

Locksmithing

Electronics engineering technology
Program Options
Certificate or diploma programs in locksmithing are available from vocational schools and career colleges. Some are delivered online.
Apprenticeship programs are also available in some provinces.
In Alberta and Saskatchewan, a locksmith apprenticeship is three years long. Each year, according to Red Deer College, apprentices complete eight weeks of classroom lessons at the college and at least 1,560 hours of supervised training on the job, for which they are paid. (Note that Saskatchewan apprentices must complete the in-class component at Red Deer College in Alberta.)
In British Columbia, a locksmith apprenticeship typically takes two years. Apprentices must complete a total of 3,600 hours of hands-on training under an experienced mentor. No classroom-based lessons are required.
In Ontario, a locksmith apprenticeship can take anywhere from two and a half to four years. In all, apprentices must complete 6,000 hours of training, at least 480 of which must be in the classroom.
Typical Courses
Locksmith training usually covers topics like:
The basics of home security
Key mastering, production, and duplication
Wiring
Safe servicing
Lock picking
Skills You Can Learn
You can develop skills in:
Installing, repairing, and replacing mechanical and electrical locking systems
Developing master key systems
Cutting keys
Disassembling locks
Configuring electronic locks and keys
Servicing and opening safes and vaults
---
---
Licensing & Certification
Locksmiths must be licensed in Alberta, British Columbia, and Quebec. The specific requirements vary, but you will typically need to be at least 18 years old and pass a background check.
Certification is available, but optional, in New Brunswick, Ontario, and Saskatchewan.
Education & Training FAQs
What high school classes are helpful?
Aspiring locksmiths would be wise to take courses in math, physics, metalworking, and electronics. Business training can also be useful, particularly if you think you may want to become self-employed.
Is a background check required?
Provinces that license locksmiths generally require you to undergo a criminal record check. And even in areas where the locksmithing trade is unregulated, some employers may still conduct background checks on applicants.
Career Information
Locksmiths are security professionals who install and service locks and keys in a wide variety of settings.
Career Outlook*
5.1% decline from 2019 to 2028
Median Salary*
Locksmiths
Job Openings*
Average Yearly Openings
Length of Training
Most Common Length
Work Settings
Specializations
Residential, commercial, automotive, safes
Sources
Government of Canada Job Bank
Canadian Occupational Projection System
Canada.ca
Earnings
The Government of Canada Job Bank lists locksmiths in the all other trades and related occupations category. The median wage for this category is $24 per hour, which amounts to $49,920 for a full-time annual salary. The top earners make upwards of $38 per hour or $70,040 per year.
Median Annual Wage Comparison
---
---
Job Openings & Outlook
The Canadian Occupational Projection System (COPS) includes locksmiths in the general category of "Printing press operators and other trades and related occupations." Employment in this category is expected to decline by 5.1 percent between 2019 and 2028. However, an average of about 500 jobs per year should still become available over that time period.
Key Benefits
Helping people feel secure: You can play a critical role in protecting both people and property. Coming to the rescue when a key goes missing or gets stuck in a lock can be immensely satisfying.
Self-employment potential: Many locksmiths start out working for established companies but then branch out on their own. You could open a brick-and-mortar shop or offer purely mobile services.
Variety: Whether you specialize in one area or go a more general route, the diversity of tasks means that each workday can be quite different.
What a Locksmith Does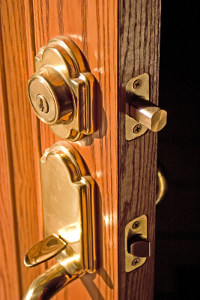 Locksmiths are technicians who specialize in entry systems. They install, adjust, and fix locks on doors, windows, safes, vehicles, and more. Some also service security alarm and surveillance systems.
On any given day, a locksmith might:
Assist people who accidentally get locked out of their homes, offices, or vehicles
Cut keys
Change lock combinations
Re-key locks
Extract broken keys
Fix or replace components like hinges, door closers, and electric release mechanisms
Program key fobs and transponder keys
Open safes
Install keyless entry locks and window bars
Sell lock and key control systems
Build master key systems
Perform a security audit and recommend locking systems
Work Settings
Locksmiths often work in settings like:
Repair shops
Private homes
Offices
Schools
Hospitals
Banks
Hotels
Car dealerships
Construction sites
Retail stores
Specializations
While some locksmiths are generalists, many opt to focus on one of the following areas:
Residential: Work with locks found on windows and doors in private homes.
Commercial: Work with more complex access systems used in settings like banks, hospitals, hotels, and office buildings.
Automotive: Work with locks and keys for vehicle doors and ignitions.
Safes: Work with locks on security safes and vaults.
Career FAQs
What makes a good locksmith?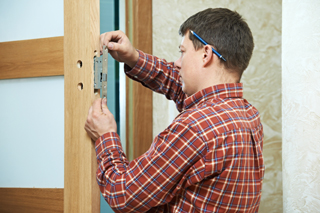 Having a love for puzzles, a natural curiosity about how things work, and some mechanical and electronic aptitude is a good start. You also need to possess good vision, hand-eye coordination, and manual dexterity. A strong sense of ethics is also important, since locksmiths must always watch that they don't overstep the mark when they're called upon to bypass locks and security systems.
What are the working conditions like?
That depends on the kind of work you do. If you're primarily based in a shop, you'll likely spend your time standing or sitting at a workbench or desk. But if you perform on-site installations and repairs, you may have to do some heavy lifting or bend and twist to fit into cramped spaces. You may also need to be prepared to work outdoors when the weather isn't great.
What kind of hours do locksmiths work?
Most work a standard 40-hour week. But because emergencies can happen at any time, locksmiths are often on-call overnight or on weekends.
Find a School Near You
Please enter a valid postal code.
---
---
* For salary information from the Government of Canada Job Bank, locksmiths are part of a broader category called Other trades and related occupations. For career outlook and job openings data from the Canadian Occupational Projection System, locksmiths are included in the "Printing press operators and other trades and related occupations" category.
** Length of training information is based on a combination of information from the Government of Canada Job Bank, the government of Canada's post-secondary search tool, and a wide sampling of relevant program lengths from about 10 individual school websites. They are a mix of public, private non-profit, and private for-profit institutions.