Technology Schools & Colleges
By Publisher
| Last Updated May 10, 2022
Start prospering from your love of working with computers. Technology schools such as the ones below specialize in preparing people for opportunities within leading-edge career sectors.
Just consider the vast potential all around you: More and more of today's dynamic workplaces offer jobs related to the Web, information security, networking, communications, mobile app development, and even gaming.
And here's a special point to keep in mind: Every tech school works hard to stand out and keep its programs relevant. That's why you'll notice a range of certificate, diploma, and degree options being offered at easy-to-reach campuses across Canada. Plus, some schools provide the chance to take an online course of study.
Find a Technology School Near You
Please enter a valid postal code.
Technology Education and Career FAQ
What Can a Tech School Offer Me?
For starters, you can expect many of the programs to be in line with growing areas of the economy. And you'll discover that they are usually taught by experienced and highly qualified instructors who care about training you well for the future. That means you can feel confident in your post-graduation career prospects.
You'll also find that a number of schools offer adult-friendly class times. That way, you get the necessary flexibility to achieve your educational goals while still balancing your other responsibilities. You might even have the option of getting your education from the comfort of your home.
How Do I Select an Education Level?
Think about your overall career goals as well as how quickly you would like to begin working in the technology field.
Generally speaking, the higher your credential, the higher your income potential. But getting started in your career sooner rather than later can also have solid benefits. It means you can accumulate real experience and get a head start on other people who are still in school. So you might want to strike a balance.
Earning a certificate or diploma is the fastest way to go. Depending on your program choice, it might take anywhere from six months to two years. Such programs tend to be highly focused on helping you develop up-to-date skills that you can use immediately in the job market.
Bachelor's degree programs, on the other hand, tend to require about four years. They usually incorporate more broad-based theory, which many employers also value.
How Is the Outlook for Jobs in This Sector?
One word: Strong. Canada's technology industries are great economic performers. According to Industry Canada, in 2020, the number of ICT job prospects grew at a faster rate than the economy as a whole. Software and computer services employment grew by 3.2%.
So your chances of finding a job in the technology industry are very promising. Plus, many schools offer employment counselors and specialists to help you. After all, preparing you for today's marketplace is their core mission. That's why a lot of employers look to tech schools when searching for future job candidates.
What Are Some of the Most Popular and Promising Fields?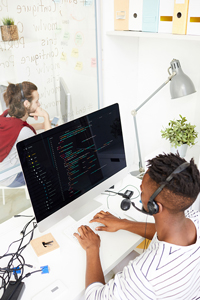 The world of technology is now so integral to our culture that great career opportunities exist in all kinds of fascinating areas. Here are just a few that offer some of the best potential for developing truly marketable skills:
Network Administration—Imagine learning how to install, create, and manage operating systems. Become familiar with both local area networks (LAN) and wide area networks (WAN). And learn ways to provide key support for small office or large corporate networks—from analyzing system performance and implementing security measures to troubleshooting technological problems. With this type of training, you can pursue a career as a network specialist, systems administrator, or network administrator.
Web Design—Start creating user-friendly and innovative websites that take advantage of logical navigation, relevant content, and search engine visibility. It's a way to combine your creative side with valuable technical abilities. Plus, quality web designers are in real demand almost everywhere.
Computer Animation—Integrate your artistic side with advanced digital skills. The rising demand for this popular art form means that your education could lead you to doing work for television, movies, video games, or Web media.
Video Game Design—With the continuous growth of gaming and apps, quality training in this field can launch you into a truly remarkable industry. You probably already have a knack for playing video games, so why not start designing them too?
Information Technology—Can you picture being an IT specialist in business, healthcare, government, or education? Practically every sector relies on computers. You can learn not only how to choose appropriate hardware and software products for any organization, but also how to install, customize, and maintain key computer systems.
How Can I Benefit from a Career in Technology?
Lots of professionals in this thriving sector enjoy outstanding rewards from their careers. Here are three of the most common ones:
Engaging work—Technology is constantly changing and improving to meet the evolving demands of consumers and whole industries. It can be exciting to work at the forefront of one of today's most progressive fields.
Job security—As many industries continue to become more and more computerized and Internet-based, the demand for qualified tech pros will continue to increase.
Room to grow—Numerous job possibilities exist with opportunities to continue learning and expanding your role and responsibilities as you acquire experience and keep pace with new technological wonders.
Find a School Near You
Please enter a valid postal code.