By Publisher

| Last Updated March 10, 2022

Education programs focus on turning out professionals for a field that offers consistent demand and great enrichment potential. Many options are available. Some positions allow you to qualify to work in a classroom or child-care setting in less than a year.
Education & Training
Post-secondary education programs can help you prepare for a rewarding career in a classroom or child-care setting.
Length of Training
The time required to complete a program depends on the specific career you wish to pursue. Programs for education assistants generally last between six and 12 months. Early childhood education programs usually run between nine months and two years. However, four-year bachelor's degree programs are also available.**
After finishing high school, it typically takes four to six years to become a fully qualified K-12 teacher.** However, candidates who already have a bachelor's degree in a discipline other than education can become qualified by completing a one-to-two-year teacher preparation program.
Most Common Length of School**
(range in months)
Education assistant

Early childhood education

Education (bachelor's)
Program Options
Certificate or diploma programs in education assisting and early childhood education are widely available at technical institutes, community colleges, and vocational schools. They typically last anywhere from six months to two years.**
Bachelor's degree programs in education can be found at universities and colleges across the country. You can opt for a four- or five-year Bachelor of Education (BEd) program that combines academic studies and teacher preparation. Or you can choose a concurrent program, in which you complete a Bachelor of Arts or Bachelor of Science in one subject (such as math, drama, or Canadian studies) along with a BEd. Concurrent programs typically take five to six years.**
Post-degree teacher training programs usually take one to two years to complete. They are designed for students who already hold a bachelor's degree in an area other than education.** They allow you to earn a BEd and qualify for teaching certification.
Typical Courses
Programs designed to train education professionals typically cover subjects like:
The principles of teaching
Diversity and inclusion
Education policy and ethics
Classroom management
Serving students with special needs
Second language acquisition
Human development
Most programs also include a practicum where aspiring educators get hands-on practice in a real classroom.
Skills You Can Learn
Generally speaking, post-secondary training in education can help you learn how to:
Foster an inclusive educational environment
Design a developmentally appropriate learning program
Create lesson plans that promote the development of critical thinking, creativity, and problem-solving skills
Select technological tools and resources that advance learning
Assess student achievement
Communicate effectively with students, parents, and co-workers
Follow professional and ethical standards
Licensing & Certification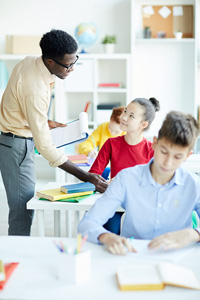 Most, but not all, areas of Canada require licensing for early childhood educators. Regulations vary between regions, but assistants typically need certificate while educators must possess a two-year diploma. These links provide more information on the nine jurisdictions that have licensing regulations:
All teachers in the public K-12 system must be certified or licensed by the province or territory where they work. The specific requirements vary by jurisdiction, but all areas of Canada require teachers to complete a bachelor's degree program in education that includes a supervised practicum.
Education & Training FAQs
Are online programs available?
Some programs are delivered entirely online, giving you a convenient way to complete your training. However, not all include a supervised practicum, so be sure to research the requirements in your area for the role you want to pursue.
If I get my education in one province, will my credentials be recognized in another?
Candidates certified in one province or territory can apply to have their credentials accepted in another jurisdiction. K-12 teachers do not generally have to take additional training to be certified in another region, but they may be required to demonstrate language proficiency. Each province defines early childhood education standards slightly differently, but this chart illustrates how they compare across the country.
Career Information
Education professionals strive to help students develop a love of learning and become the best they can be. This field offers meaningful work and plenty of opportunities.
Career Outlook*
8.9% growth from 2019 to 2028
Median Salary*
(Average Median)
Job Openings*
Average Yearly Openings
Length of Training
Most Common Length
Work Settings
Specializations
Art, business, languages, math, science, special education, trades, and more
Sources
Government of Canada Job Bank
Canadian Occupational Projection System
Canada.ca
Earnings
Here are the median yearly wages (based on full-time employment) for different careers in education, according to data from the Government of Canada Job Bank:
Based on the above figures, the average median wage for educators in Canada (below the college and university level) is $60,199.
Secondary school teachers

Primary school teachers

Special education teachers

Education assistants

Early childhood educators
Job Openings & Outlook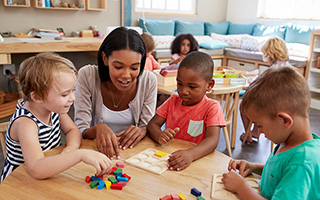 According to the Canadian Occupational Projection System (COPS), occupations in education below the college or university level should see an average employment growth rate of 8.9 percent between 2019 and 2028.
That figure is based on an average of the rates for each of the following careers:
Early childhood educators and assistants
Education assistants
Primary school teachers
Secondary school teachers
Special education teachers
COPS data also reveals that a cumulative total of 27,160 jobs for the above occupations should become available each year, on average, between 2019 and 2028.
Key Benefits
The potential to shape young minds: You can have a tremendous, lasting impact on the lives of your students.
The chance to establish your own style: You will likely have great autonomy to come up with creative and innovative ways of meeting the learning goals of the curriculum.
Enrichment opportunities: Being immersed in an environment of learning is highly stimulating. That can motivate you to develop new skills and broaden your knowledge base.
What an Educator Does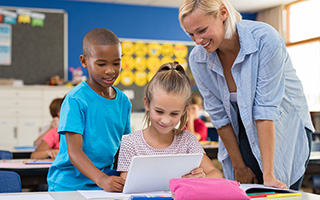 Educators seek to support the intellectual and social development of students.
The tasks they perform vary somewhat depending on their specific role. For instance, early childhood educators often teach songs, read stories, and lead students in arts and crafts activities. Primary school teachers teach a variety of subjects to a single class, while secondary school teachers generally teach one or two subjects to multiple groups of students.
So, depending on the age group or subject area they focus on, an educator might:
Create lesson plans that align with prescribed curricula
Use a variety of tools and techniques, such as videos, class discussions, hands-on activities, and field trips
Assign homework, administer exams, and evaluate student progress
Look for indications of developmental or learning issues
Prepare alternative materials for students who need extra assistance or can handle additional challenges
Communicate with parents and school administrators
Lead extracurricular activities like sports and clubs
Work Settings
Teachers and education assistants work in public and private elementary, middle, and high schools. Some also provide instruction or support online from their homes.
Early childhood educators can work in preschools, daycare centres, private homes, and early learning centres in public schools.
Careers
The education field encompasses a wide range of careers, such as:
Preschool teacher: Use play-based activities to promote the social development of young children and help them get ready for kindergarten.
Kindergarten teacher: Help five- and six-year-olds develop basic reading, number, and social skills and adapt to school routines and expectations.
Elementary school teacher: Promote the academic and emotional growth of children in the early grades.
High school teacher: Focus on expanding teenagers' knowledge and skills in specialized subject areas.
Education assistant: Reinforce lesson plan concepts by offering extra help and attention to small groups of students within the classroom.
Special education teacher: Support the learning goals of students with special needs.
Tutor: Provide one-on-one instruction to private clients.
ESL teacher: Help improve the written and oral communication skills of those whose first language is not English.
Specializations
Educators have an enormous range of potential specialties. For instance, early childhood educators can focus on areas like Indigenous education, infant and toddler development, or special education.
Teachers working with older students often concentrate on one or two academic areas. Here are some examples of potential specialties:
Art
Business
Science (biology, chemistry, physics, etc.)
Computer science
Dance
Drama
English language arts
First Nations studies
French (core or immersion)
Home economics
Mathematics
Music
Other languages (American Sign Language, German, Japanese, Korean, Mandarin, Russian, Spanish, etc.)
Physical education
Social studies or history
Special education
Trades (automotive, electrical, HVAC, etc.)
Career FAQs
How do I know if a career in education is a good fit for me?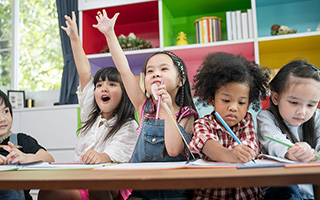 If you enjoy working with young people and are passionate about inspiring them to reach their potential, the education field might be a good choice. Great teachers are patient, organized, resourceful, persistent, and dedicated to the needs of their students. You may have to put in long hours outside of the workday preparing lessons, marking assignments, or meeting with parents. But if you dream of making a difference in a child's life, this may be the field for you.
Which occupations within education have the best outlooks?
According to COPS data, special education teachers are expected to see the most rapid job growth over the 2019-to-2028 period. Here's how the careers compare:
Special education teachers: 10.1 percent
Education assistants: 9.9 percent
Early childhood educators and assistants: 9.3 percent
Primary school teachers: 8.6 percent
Secondary school teachers: 6.8 percent
But percentages don't tell the whole story. Below are the average number of annual job openings that are projected to become available in each occupation over the same period:
Primary school teachers: 9,770
Early childhood educators and assistants: 8,160
Secondary school teachers: 5,000
Education assistants: 4,020
Special education teachers: 210
---
* Salary information represents an average of the median wages for early childhood educators and assistants, education assistants, primary school teachers, secondary school teachers, and special education teachers, as noted by the Government of Canada Job Bank. Career outlook and job openings data are drawn from the Canadian Occupation Projection System for the same careers.
** Length of training information is based on a combination of information from the Government of Canada Job Bank, the government of Canada's post-secondary search tool, and a wide sampling of relevant program lengths from up to 30 individual school websites— a mix of public, private non-profit, and private for-profit institutions.